Purity Ring: A Feast for the Eyes as Well as the Ears
Canadian buzz band delivers a brief, but visually dazzling show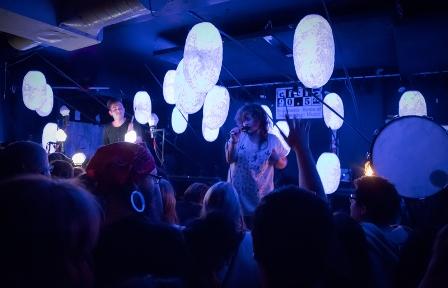 By Adrien Begrand
Special to MSN Music
As endearing as the best indie music can be, one aspect of performances that few bands pay attention to is how they present themselves onstage. Of course when you're driving a van across the country, relying on merchandise sales for gas money, it's not as if you have much of a budget to spend on a stage show, but as some young bands are proving, a little creativity goes a long way. That fact was more than apparent to anyone walking into the sold-out, 230-capacity Amigos in Saskatoon, Saskatchewan, as the small stage, which is normally set up with the same old rock band equipment, was lavishly adorned with a couple dozen hanging, cocoon-like paper lanterns, in anticipation of synthpop duo Purity Ring.
Based in Montreal but originally from Edmonton, musicians Corin Roddick and Megan James have been steadily building a following over the past year. Starting off with a pair of revelatory singles in 2011, Purity Ring became a minor Internet sensation with their unique, diaphanous pop music.
Part dreampop, part glitchy dubstep, and featuring James' ethereal voice and enigmatic lyrics, it makes for an appealing package. Venerable U.K. record label 4AD was quick to the sign the band, and their debut album "Shrines" was released to much acclaim this past July. As timing would have it, their return to the Canadian prairies was scheduled right when the buzz surrounding the band and album couldn't be higher.
Bing: What other bands are on 4AD's roster?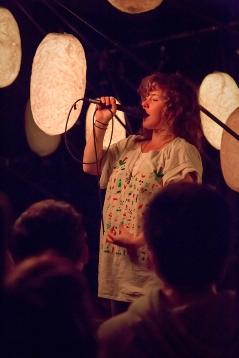 Coming off a triumphant hometown performance in Edmonton a couple nights earlier and another sold-out show, on this night it was evident Purity Ring are connecting in a big way with audiences these days. The entire venue was packed from wall to wall just after midnight when hanging lanterns started flickering blue light, eliciting more than a few audible oohs from the crowd, who weren't expecting visuals so subtly dazzling. With Roddick on stage right at his MPC and James to his left beside a mounted bass drum, the pair launched into the murky, skittering "Belispeak", the lanterns flickering, flashing, changing color, and dimming in time to the thudding beats and swelling synth lines.
The curly-haired James, inexplicably wearing a parka in the sweltering club for the first few songs, would be the focal point for the next 45 minutes, crooning into her microphone, striking the bass drum – which of course glowed with every beat – but Roddick's input shouldn't be underestimated. Much more than being the guy who presses "play," he continually added quirky, spontaneous tweaks to the music, manipulating James' vocals, improvising beats and even tossing in the odd bass "drop" that the dubstep kids like so much these days. And as a neat visual effect, during the more subdued moments, he would use drumsticks to hit a collection of MIDI pad-triggered light bulbs, which along with the lanterns and James' bass drum, made for a visual presentation that was as gorgeous as the music that was being played.
Bing: Find out more about Purity Ring
Meanwhile, despite being under the weather, James was a friendly, constantly smiling presence throughout as she led the way on such popular songs as "Fineshrine," "Crawlersout" and their breakthrough single, "Ungirthed," with many in the transfixed audience singing along word for word ("The scent of my hands is familiar to prostrated men in their call/to guide me their spirits/from fire, fire, fire, fire"). The nine-song performance was a short one that left the crowd begging for more, but thanks to such shimmering music and a stage show that was creative, economical and eye-popping, it was a set that no one in attendance will forget anytime soon.
* Photos by  Mike Zimmer
live local music on
Enter your ZIP code to see concerts happening in your area.
Data provided by Zvents
follow msn music