Anthrax and Friends Get Caught in a Mosh
Titans of thrash metal team up for a brutally enjoyable show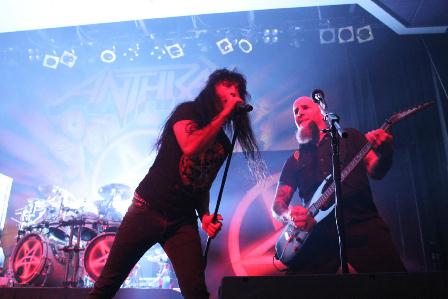 By Adrien Begrand
Special to MSN Music
Twenty-five years ago, a tour featuring Anthrax, Testament, and Death Angel would have been a prime example of heavy metal at its most cutting-edge, perfectly timed to coincide with thrash metal's growing profile. Skip ahead to 2012, and such a tour doesn't quite have the underground cachet it might have had in 1987, but try telling that to anyone in attendance at the Odeon Events Centre in Saskatoon, Saskatchewan on Sept. 24. Besides, not only has the music of all three bands aged very well over the years, but all are experiencing a bit of a renaissance these days.
San Francisco's Death Angel, who returned in 2004 after a more than decade-long split, are back consistently churning out new music. Testament, from Berkeley, Calif., similarly returned after an extended absence in 2008, and on the strength of a pair of excellent albums have recaptured their popularity of the late-1980s. New York's Anthrax, meanwhile, after an extended soap opera during which three vocalists would sing on the new album, are enjoying their biggest success in many years, with last year's critically acclaimed "Worship Music" having sold more than 100,000 copies. So with all three bands discovering a creative second wind, coupled with the nostalgia those who grew up with metal in the 1980s have, it made for a very enthusiastic vibe on an autumn night.
Crank it up to 11 with MSN Music's metal blog, Headbang
Openers Death Angel were given only 35 minutes to do their thing, but they made the most of it. Long one of the best live thrash bands around, and led by gregarious, dreadlocked singer Mark Osegueda, they played a set leaning heavily towards their most recent record "Relentless Retribution," the one exception being the great "Mistress of Pain" from their popular 1987 debut "The Ultra-Violence." Whether old material or new material, it hardly mattered because the energy they exuded was contagious.
One of the only metal bands this year whose new album topped the first-week sales numbers of their previous release – a rarity in this day and age – Testament were greeted by a very large, very enthusiastic audience, and they responded with a 70-minute performance that not only focused on their latest album, "Dark Roots of Earth," but dug deep into their back catalog. Led by the ever-personable singer Chuck Billy and backed by a new drummer, veteran Gene Hoglan – one of the few people in the metal world who can make Billy look small – they tore through such old favorites as "The New Order," "The Preacher," "Into the Pit" and "Over the Wall." However, the new songs went over extremely well, too, from the call-and-response of "Rise Up," to the blastbeat-accentuate​d "Native Blood," to the more somber "Dark Roots of Earth."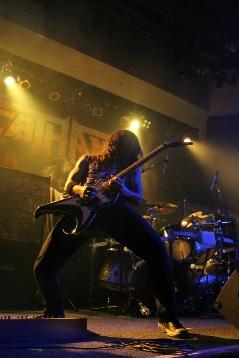 Part of the much-lauded "Big Four" of American thrash, Anthrax will always draw a raucous crowd, and when they took the stage the mosh pit on the floor was set to explode. However, everyone had to wait a few minutes, as the band kicked into the decidedly tame "Worship Music" track "Fight 'Em 'Til You Can't." Once the mid-paced active rock was over, though, the real thrash at hand kicked into full gear, "Caught in a Mosh" inciting friendly, violent mayhem, and continuing during the classic "war dance" breakdown of "Indians." Singer Joey Belladonna and guitarist Scott Ian led the way, always engaging the crowd, keeping the energy up, while bassist Frank Bello cheerfully mugged and ran around, Rob Caggiano dutifully handled lead guitar, and Shadows Fall drummer Jason Bittner – filling in for the injured Charlie Benante – did an outstanding job behind the kit.
Bing: Anthrax music, videos and more
Anthrax's 90-minute set offered a good balance between new and old material, with no attention given to the band's 1993-2003 output. That was just fine for the crowd, who erupted whenever an old favorite was dragged out, whether it was the cover of Joe Jackson's "Got the Time,"the great "Deathrider" off 1984's "Fistful of Metal" or "I Am the Law," arguably the band's finest moment. Just like Death Angel and Testament, Anthrax proved just how vital a metal band they still are, capable of great new music ("The Devil You Know" got a big response) and still able to make the old songs sound as powerful and invigorating as ever. Judging by the looks on the faces of those in attendance, from teenagers to longtime fans in their 40s, nobody left this show disappointed.
Adrien Begrand's extensive writing about metal music has been published in such magazines as Decibel, Metal Edge, Terrorizer, Sick Sounds, Dominion and Metallian, and online at PopMatters.com and Hellbound.ca. A metal enthusiast for nearly 30 years, he resides in Saskatoon, Saskatchewan, Canada.
* Photos by Darcy Begrand
live local music on
Enter your ZIP code to see concerts happening in your area.
Data provided by Zvents
follow msn music