FEATURED POST
Rascal Flatts' Jay DeMarcus Co-Produced The Title Track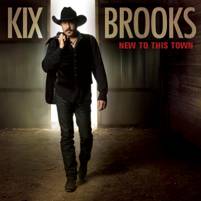 Kix Brooks, formerly of Brooks & Dunn, will release a solo album, "New To This Town," on September 11. The 12-song collection includes nine songs co-written by Brooks, who also produced the set. The title track, which is currently at No. 32 on Billboard's Hot Country Songs chart, was co-produced by Rascal Flatts' Jay DeMarcus.
"I made an album that really is close to my heart, and it's a whole lot of fun," says Brooks in a press release announcing the album. "For the most part, the music's . . . kind of fun and games and hangin' it out there and thinkin' about getting' back in a lot of those clubs and festivals and getting' to play again . . . People come to enjoy themselves, and I think this album in a lot of ways is about that."
Here's the album's full track listing: 
1. New To This Town (Featuring Joe Walsh)
2. Moonshine Road
3. Bring It On Home
4. There's The Sun
5. Complete 360
6. My Baby
7. Tattoo
8. In The Right Place
9. Next To That Woman
10. Let's Do This Thing
11. Closin' Time At Home
12. She Knew I Was A Cowboy
Brooks will make his solo debut on the Grand Ole Opry July 10.
live local music on
Enter your ZIP code to see concerts happening in your area.
Data provided by Zvents
follow msn music