FEATURED POST
Also, Are Tim McGraw And Faith Hill Headed To Vegas?
• Country star Joe Nichols has been forthright about his struggles with alcoholism and his stints in rehab, but he really opens up about those issues, as well as his abuse-filled childhood, in an upcoming episode of Great American Country (GAC)'s "Backstory," set to debut May 12. Nichols' brother, wife, manager, producer, therapist and friend are also interviewed.
In the show, Nichols recalls his parents' hostile divorce, physical abuse from his father, and a dependency on whiskey he says started at around age 13. 
When he his recording career took off, the Grammy-nominated singer reveals, he found it very difficult to deal with, explaining that historically, high points in his life sent him into a destructive mode and, ultimately, in and out of rehab.
"Those are the most dangerous times for me," Nichols says of the career highs. "That's when I want to destroy everything."
Just as his career took off, Nichols' father passed, and he says, "I was ill-equipped to handle the loss."
Just 30 days after his marriage to Heather Singleton in '07, Nichols was back in rehab, and what followed was a one step forward, two steps back pattern of behavior until 2008 when an intervention orchestrated by his family and friends sent the singer to an intensive, in-patient rehab treatment program.
Says Nichols of his wife,  "There's no way that Heather should still be married to me. It's only by grace."
Nichols also opens up about the fertility issues the couple has faced, suffering five miscarriages until last month when they finally became parents of baby girl Dylan River. "I hope through my story that other people find a sliver of hope because I have lost five children to get to this one," Heather says in the show.
Today Nichols admits to enjoying life one day at a time.  "I live free now," he says. "I don't live perfectly, I don't claim that. That's a mistake because I can't promise anything past today."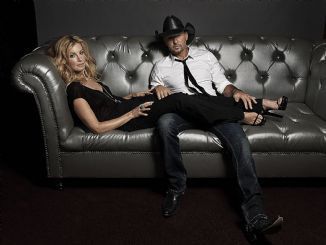 • In other news, are Tim McGraw and Faith Hill about to sign contracts to do a series of weekend concerts in Las Vegas? That unconfirmed story comes from the Las Vegas Sun, which reports the country couple will do a series of concerts running from November to April at an as yet unidentified 1,800 seat venue, which would put their show in competition with fellow Las Vegas weekend performer Garth Brooks, who headlines at the Wynn's Encore Theater.
According to the Sun, the deal is "so close to being signed that Tim and Faith have scrapped plans to go out on tour together so they can enjoy a residency here. It can't start sooner because Tim is touring with Kenny Chesney this summer." The couple's three daughters go to school in Nashville, so performances during the week wouldn't be feasible.
live local music on
Enter your ZIP code to see concerts happening in your area.
Data provided by Zvents
follow msn music