FEATURED POST
Singer reveals his love for Nashville, and the city's music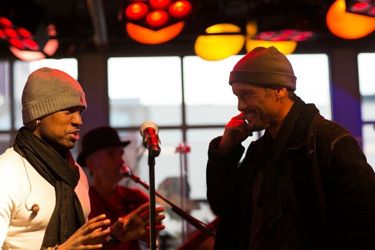 The country genre has already attracted such out of format stars as Kid Rock, Sheryl Crow, Staind's Aaron Lewis, Kelly Clarkson, Darius Rucker, Jewel and even Jessica Simpson (the latter for a mercifully short time), so it shouldn't come as too much of a surprise to know that R&B superstar Ne-Yo might be next.
The singer, who has already collaborated on projects with country stars Tim McGraw and Carrie Underwood, said backstage at last week's "The Grammy Nominations Concert Live!!—Countdown To Music's Biggest Night" in Nashville that he'd like to make a country album at some point.
"I would follow in the footsteps of one of my mentors, one of my idols, Lionel Richie, and I would absolutely make a country album," he said. "I'll wear the hats, the boots, I'll do it."
He also said he loves Nashville and would consider buying a home there. "I might have to go look at some property later," he said. "Everybody knows if you want to get away from the silliness of what L.A., or what N.Y. can be, or what the business can be—the smoke and mirrors element of it to quality of music first—Nashville is definitely one of those places to go to do it."
As for McGraw (pictured with McGraw above), who duets with Ne-Yo on the latter's new album, "R.E.D.," Ne-Yo said, "Tim McGraw is country music royalty, and the fact that he would even step down off the country music throne and do something with me is an honor."
live local music on
Enter your ZIP code to see concerts happening in your area.
Data provided by Zvents
follow msn music