FEATURED POST
Singer And His Wife Are Expecting A Baby Girl In November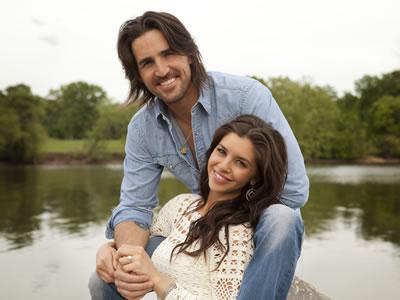 Jake Owen, 30, has announced that he and new wife Lacey Buchanan Owen, 22, are expecting their first child—a girl—in November. The couple got engaged onstage during one of Owen's shows in Florida on April 7, and wed on the beach one month later.
"We actually found out Lacey was pregnant after I had asked her dad for his permission," Owen tells People. "From the day I met her, there was no doubt in my mind I wanted to marry her, and we always knew we wanted a family.
"The way we saw it, the baby news was a bonus on top of the engagement, but we didn't want anyone to think we were getting married because Lacey was pregnant, and we wanted to celebrate our wedding first," he adds.
Says Buchanan Owen, "We didn't want to go public with it until we found out if it was a boy or a girl. The pregnancy was just something we wanted to keep for ourselves for a little while."
Owen's bride has been joining him on the road during his Brothers of the Sun tour dates with Kenny Chesney and Tim McGraw.
live local music on
Enter your ZIP code to see concerts happening in your area.
Data provided by Zvents
follow msn music