FEATURED POST
Plus, New Albums In The Works From Bobby Bare, Krystal Keith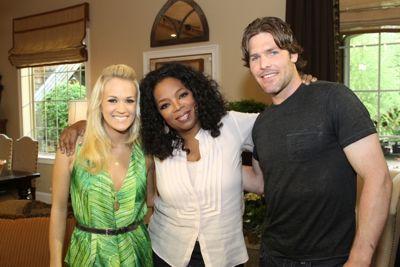 • Carrie Underwood and her husband, hockey star Mike Fisher, recently sat down with Oprah Winfrey in Nashville for their first-ever television interview together. The in-depth interview is set to air on Winfrey's OWN network beginning May 20 at 9 p.m. (ET/PT) as part of the "Oprah's Next Chapter" series. It is the first time the couple has allowed television cameras inside their home. Underwood and Fisher talk about how they balance their successful careers with their two-year marriage. The couple also takes Winfrey to the plot of land where they plan to build their dream home.  
• Country legend Bobby Bare is recording a new album at Nashville's historic RCA Studio B. The Grammy -winning artist who landed 13 top 10 country singles between 1963 and 1974, including the No. 1 hit "Marie Laveau," is cutting a mix of traditional folk and blues songs, and contemporary Americana, with a band that includes Buddy Miller, Randy Scruggs and other members of Robert Plant's Band of Joy. His album will be the first release on the newly-launched Plowboy Records, formed by musician Shannon Pollard, grandson of the late Country Music Hall of Famer Eddy Arnold. Also currently being recorded for the label is an Eddy Arnold tribute album that will feature interpretations of his songs by traditional country artists, alt-country and indie rock bands.
• Gloriana will be featured on the May 21 episode of the ABC reality series "The Bachelorette." The trio will play a surprise concert in Charlotte, N.C., during a one on one date between "Bachelorette" Emily Maynard and one of her suitors.
"I'm a huge fan of 'The Bachelor' and 'The Bachelorette,'" says Gloriana band member Rachel Reinert in a press release. "I watched Emily when she was a contestant on 'The Bachelor,' and I was an instant fan of hers, so hearing that she is a fan of our band was a wonderful surprise. I'm excited to watch the new season, and I'm even more excited that we got to be a part of it."
• Toby Keith's daughter, Krystal, is readying her debut country album, produced by her famous dad. She has also adopted her father's professional last name of "Keith." Krystal wrote her first song at age nine, began singing in local competitions at 13, and recorded her first song when she was 17. She stepped into the national spotlight when her father brought her onstage during the Country Music Awards in 2004 to sing their duet of "Mockingbird" together. Released as a single to radio, the song stalled at No. 27 on Billboard's Hot Country Songs chart.
Today, she's putting the finishing touches on her album, which will feature a mix of songs she has co-written, along with songs by some of her favorite writers, including her father.
"I'm pretty much a hard-core country girl," she says in a press release. "I grew up on Patsy Cline, Willie Nelson, Waylon Jennings - the greats. My music is country, but a little bluesier, and I have some rock in me, some Janis Joplin, who I really love."
• Craig Morgan's TV series, "Craig Morgan All Access Outdoors," has been renewed for a third season by the Outdoor Channel. Moving to Sunday nights at 11 p.m. (ET), the new season premieres July 1.
live local music on
Enter your ZIP code to see concerts happening in your area.
Data provided by Zvents
follow msn music