FEATURED POST
New set is due at retail Feb. 5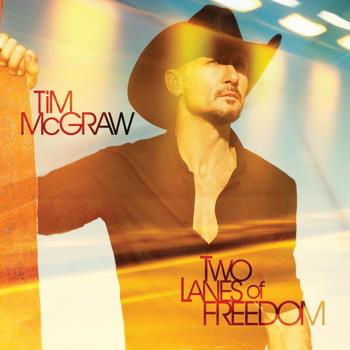 Tim McGraw has unveiled the cover art, track listing and additional details about his upcoming album, "Two Lanes Of Freedom," due in stores Feb. 5, 2013. Most notably, the album includes a collaboration with his new label mate, Taylor Swift, as well as Keith Urban on the album's closing track, "Highway Don't Care." The song is goofily sequenced as No. 13 on the album in deference to Swift's oft-professed lucky number, even though it the album's 11th track.
"I feel like I've progressed in my work, and I've always strived to get better," says McGraw in a prepared statement. "On my last album, I was discovering some new sounds and new things that I wanted to do, scratching the surface of the direction I wanted to head. This album was a way to reach a little further back, to all that I'd done throughout my career, and bring both sides together. It's a combination of that discovery, along with some rediscovery."
McGraw says it was the album's title track that established the tone for the whole project. "When we cut 'Two Lanes of Freedom,' there was such a freshness to it," he says. "The track has this sort of Gaelic drive to it and really sets a palette for the whole record because it's so visual. It has that summery, hazy image and I think that made the whole record open up for me."
Other notable tracks include "Number 37405," sung from the perspective of a singer-turned-convic​t, and "Book of John," about a family paging through the journal left behind by its late patriarch.
Here's the full track listing (with songwriter credits):
1. Two Lanes of Freedom (Jaren Johnston/Jenn Schott)
2. One Of Those Nights (Luke Laird/Rodney Clawson/Chris Tompkins)
3. Friend Of A Friend (Mark Irwin/Josh Kear/Andrew Dorff)
4. Southern Girl (Jaren Johnston/Lee Miller/Rodney Clawson)
5. Truck Yeah (Chris Janson/Danny Myrick/Preston Brust/Chris Lucas)
6. Nashville Without You (Kyle Jacobs/Joe Leathers/Ruston Kelly)
7. Book of John (Jon Nite/Greg Becker)
8. Mexicoma (James Slater/Brad Warren/Brett Warren)
9. Number 37405 (Tom Douglas/Troy Jones)
10. It's Your World (Scott Stepakoff/Josh Osborne/Shane McAnally)
13. Highway Don't Care (featuring Taylor Swift and Keith Urban) (Mark Irwin/Josh Kear/Brad Warren/Brett Warren)
The album's deluxe version also includes
Annie I Owe You A Dance (James Slater/ Tom Douglas)
Tinted Windows (Mark Irwin, Josh Kear, Andrew Dorff)
Let Me Love It Out Of You (Rachel Thibodeau, Jason Sever, David Tolliver)
Truck Yeah (Live version)
live local music on
Enter your ZIP code to see concerts happening in your area.
Data provided by Zvents
follow msn music