FEATURED POST
Venue Will Host The World's Largest Collection of Cash Artifacts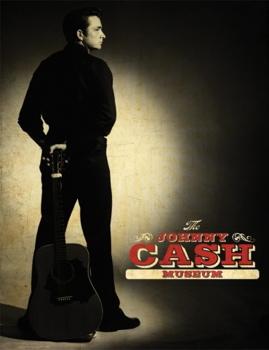 The Man in Black is having a museum built in his honor. Yesterday in Nashville, city and museum officials, along with Johnny Cash family members, announced plans for the Johnny Cash Museum, being built downtown near another museum where Cash is prominently featured, the Country Music Hall of Fame and Museum. The Johnny Cash Museum, which is expected to ultimately occupy 18,000 square feet including a performance venue, is projected to open its doors this summer. 
This new venue will feature what planners promise will be "the world's largest, most comprehensive and important collection of Cash artifacts and memorabilia anywhere in the world."
Many never before seen historical documents, letters, awards, costumes and instruments will be on display in a three dimensional journey through Cash's life, illustrated with interactive displays. The museum unites the extensive collection of Bill Miller, a longtime friend of Cash's and founder of the official Johnny Cash web site www.JohnnyCash.Com, with pieces from friends, colleagues and family members, including Cash's daughters, son and siblings. The collection will feature the handwritten manuscript to the last song Cash every wrote, just days before his death.
Visitors also will be given a look into Cash's non-entertainment related life, including his childhood and early adulthood, and his service in the United States Air Force.
In other Cash news, Columbia/ Legacy recordings will release "Bootleg Vol. IV: The Soul Of Truth" to retail outlets April 3. The project is a 2-CD, 51-track collection which compiles gospel and spiritual recordings (both released and previously unreleased) made by Cash in the 1970s and '80s.