FEATURED POST
Country Star Plans To Continue Making Albums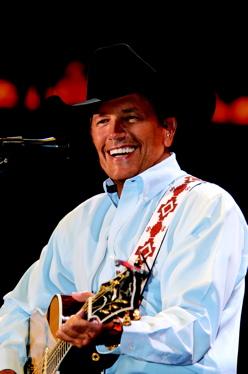 George Strait has been closing his shows with his 1985 hit "The Cowboy Rides Away" for years. Now, he's made that the title of his farewell tour.
At a press conference in Nashville this afternoon, Strait announced that following the two-year tour, he will come off the road permanently. However, both Strait and the head of his record label, Mike Dungan, stressed that he is not retiring from recording. In fact, he has plans to go into the studio in two weeks to work on his next album. Said Strait, "I will continue to make albums as long as Mike lets me."
The Country Music Hall of Fame member said he's now in the longest stretch of his career between albums, adding, "I'm pretty anxious to get something out."
Strait has toured consistently over the years, but never been a road warrior like some of his fellow country superstars. In fact, the two-year farewell tour will encompass just 40 dates, about what most other acts might knock out in a summer.
Martina McBride will open 20 of those dates in 2013, and was on hand at the press conference to say, "Being part of this historic tour truly is a career highlight for me."
Strait, who turned 60 in May, said he'd always had that age in mind as a stopping point for the touring portion of his career. Still a reliable seat-filler, Strait also said he didn't ever want to get to the point where he booked a tour and nobody showed up.
He called the decision to stop touring "hard to make," but later said, "I think I made the right decision. In 2016 I might say 'What a dummy,'" he joked. Responding to an audience question, Strait vigorously squashed the idea of ever doing a Las Vegas casino residency, as many other stars have done, saying it just wasn't for him.
Strait revealed the first 21 markets he will visit during the winter and spring legs of his 2013 tour, which begins on January 18 in Lubbock, Texas.
The press conference began with a video tribute to Strait featuring messages from many of his fellow country stars and former touring partners. They included: Clay Walker, Dierks Bentley, Taylor Swift, Lee Ann Womack, Blake Shelton, Jamey Johnson, McBride, Alan Jackson, Ronnie Dunn, Tim McGraw, Reba McEntire, and Kenny Chesney, who described himself as "a self-proclaimed George Strait wannabe."
live local music on
Enter your ZIP code to see concerts happening in your area.
Data provided by Zvents
follow msn music