FEATURED POST
Singer And His Family Are First-Hand Recipients Of Red Cross Services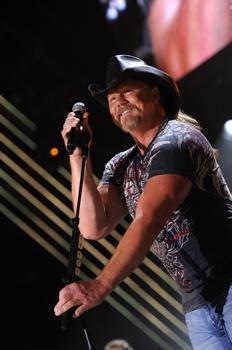 Singer and actor Trace Adkins has been chosen to serve as the spokesperson for the 2012 American Red Cross Holiday Giving Campaign, which encourages people to look beyond material gifts during the upcoming holiday season and instead consider giving charitable donations, sending cards for military heroes or donating blood.
"When my home was claimed by fire last year, the Red Cross was among the first on-site," Adkins says in a press release announcing his involvement with the campaign. "They looked after my family when I couldn't be there, and offered to help in any way they could. We were fortunate because we only lost things that could be replaced. That's not the case for every victim of disaster, and that's when the Red Cross steps in. From personal experience, I am supporting the Red Cross and their work to unite families and aid in times of need."
The Red Cross campaign features an online catalog people can use to make a tax-deductible charitable donation this holiday season that will help provide items such as food and shelter for disaster victims, military comfort kits, and basic necessities for families who have lost everything in a disaster.
Adkins and the Red Cross also are encouraging individuals and families to send words of thanks to members of the Armed Forces, veterans and their families, through the charity's Holiday Mail for Heroes program. The Red Cross has begun collecting cards, and will distribute them in the United States and at military installations overseas throughout the holiday season. Adkins recently recorded several radio public service announcements for the American Red Cross Holiday Mail for Heroes program featuring his new song, "Tough People Do."
Adkins has also joined the Red Cross National Celebrity Cabinet, joining more than 40 other celebrities including Jamie Lee Curtis, LL Cool J and Josh Duhamel.
live local music on
Enter your ZIP code to see concerts happening in your area.
Data provided by Zvents
follow msn music