FEATURED POST
Actress/singer also dishes on plans to "give Trace Adkins a really hard time"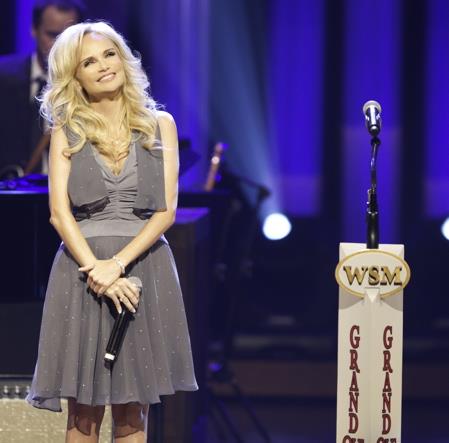 Kristin Chenoweth isn't finished with country music. The Broadway and TV star will be back this year as co-host of the Dec. 10 "American Country Awards" on FOX, and plans to make a second country album at some point, a follow-up to her country-ish 2011 set, "Some Lessons Learned."
In a conference call with reporters this week, the Oklahoma native spoke about plans her next album, her acceptance (or lack thereof) so far by country radio, her musical influences, and her returning role hosting the ACAs with Trace Adkins live from Las Vegas on Monday night
On her last album, plans for the next one, and her musical influences:
"I really wanted to pay homage to how I grew up singing. That was a huge influence on me, obviously, because in Oklahoma there are 4,500 country music stations and maybe one pop/rock. So think about who my influences were. They were Dolly and Reba and Tricia and Shania and Patsy. Those were the people that I listened to. Of course I loved the Broadway cast albums because we didn't have tons of Broadway coming through Broken Arrow, [Okla.,] but that was largely my musical influence.
"It's so funny when people [ask] who were your favorite performers? It's Julie Andrews, Madeline Kahn, Dolly Parton and Sandy Patty, which I know is very eclectic, but that was how it was for me in Oklahoma.
"I want to do another country album, actually . . . I just didn't feel like I got [it] done with that first album. I thought it was a really good start . . . So yes, there's going to be a part two there for sure."
On whether she'd be happy one day being more associated with country music than Broadway:
"I would be cool with it, but the truth is I am linked to Broadway forever and I'm very proud of that."
On her last album being ignored by country radio:
"I find it sort of frustrating that you have to—with country music it has to be just that. That's it. That's not me. If that means I never really get accepted or played on the radio there, that's okay, but it bums me out that it's like that. But I will continue to put all kinds of music out there because I love all kinds of music. That's one of the reasons why I so badly wanted to come back this year at the ACAs, because it is a big part . . . of who I am."
On when she enjoys most about co-hosting the ACAs:
"Last year what was so great is two fold. It was to meet the people that I've been listening to on the radio that I admire. That was really fun. And the second part is obviously working with Trace. He is a really good person. He has a very good sense of humor and, for some reason, we have kind of a fun chemistry. It's not two people that you would necessarily put together, but it works. I just flat out adore him. Honestly, that's what brought me back this year. It's him."
On the challenges of being a returning host:
"Trace and I want to continue to try to up our game, so the rehearsals are going to be kind of long. I'm flying in [to Las Vegas] two days before so we can sort of get acclimated. We just don't want to screw up live. That's going to be the biggest challenge, but also one that I love because I look at it as live theater. It'll be fun."
On being an effective host:
"The key for a good host is to be a good listener because, as you know, things happen that aren't supposed to happen when you're doing a live show. For someone like me, you pray for it because it just makes it more fun. So my challenge will be to be a great listener and to make sure and give Trace Adkins a really hard time."
On the country artists she's enjoying listening to today:
"I really do love The Band Perry. I'm still listening to their hit from last year. It's on repeat. And I really am happy for Little Big Town . . . [They] made me—when I met them—feel so welcome and loved and accepted. For them to be as talented as they are nice, I'm going to root for them. I also like Thompson Square. I'm always going to be partial to Carrie [Underwood]. I just can't help it. But I still like my old timers like Dwight Yoakam and I don't think you'd call Faith Hill an old timer, please God no, because we're about the same age. But there are just some singers I'm never going to not listen to, Chely Wright being one of them. She hasn't released an album in two years, but I keep telling her she's got to do it."
On balancing her work and personal life, and what's changed in the wake of her head injury last summer on the set of "The Good Wife":
"That's my biggest struggle in life is the balance issue. I know that a lot of people know that I got hurt in July. I'm doing so much better, but I think it slowed me down to a point to really try to be very, very careful. I like to do a lot of different things and I've realized that life is short and I want to do things that make me happy and really help me leave my mark in this world . . . When I say yes to something I want to be great at it."   
live local music on
Enter your ZIP code to see concerts happening in your area.
Data provided by Zvents
follow msn music