FEATURED POST
Nashville Session Great Hargus "Pig" Robbins Also Honored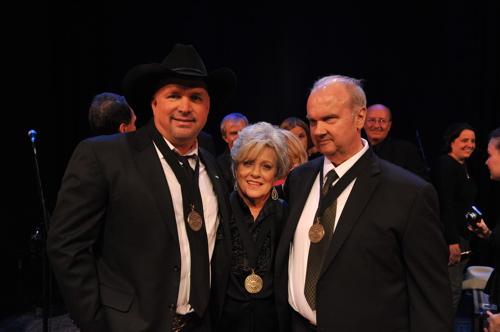 Two country stars and a sought-after session musician joined the ranks of the Country Music Hall of Fame Sunday night in Nashville. In a celebrity-packed gathering, Garth Brooks and Connie Smith, along with piano player Hargus "Pig" Robbins, were honored at the Hall of Fame's annual Medallion Ceremony. Each of the honorees was surprised by the performers who paid tribute to them during the ceremony.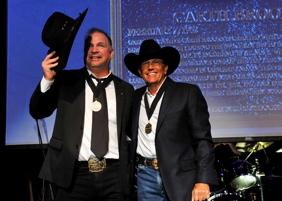 George Strait was the first up to honor Brooks, singing the younger star's first hit, "Much Too Young (To Feel This Damn Old)." Introducing the song, Strait said he had learned Brooks had "Much Too Young" when he came to town, and wanted to get it to Strait. "You just didn't try hard enough," Strait cracked, looking at Brooks in the front row. "I need songs like this."
Next up, James Taylor surprised the crowd, performing Brooks' No. 1 hit, "The River," backed by Brooks' wife, Trisha Yearwood. In another surprise for Brooks, Bob Seger took the stage afterwards to sing "That Summer," also supported by Yearwood.
"What I admire about Garth is his passion," Seger said. "I also love the fact that with his enormous success, his historic success, he's still a really good guy. He wears it well."
Strait handled the official induction, saying of Brooks, "I think passion best describes him. He's got it. You see it when he sings on TV or at concerts, and you'll see it tonight when he speaks. I remember hearing about him on stage swinging on ropes and throwing things, and I said, 'This is country music. Can you do that?' He blew it up, man. Yes he could do that. And you can see it today in all the young acts that were influenced by you. It's amazing."
Speaking directly to Brooks, Strait added, "I've always felt a connection to you, singing about rodeos and whatnot. And you just brought so many new fans to our music. It helped all of us."
In his acceptance speech, Brooks spoke of his parents. "My mom believed you could fly, and my dad would pull you over right after and say, 'If you're going to do it, it's going to take a hell of a lot of damn work,'" he said.
Brooks also said Strait's music set the direction for his own career after he heard Strait's "Unwound" on the radio. "From that point forward, I knew what I wanted to do with the rest of my life," he said. "I wanted to be George Strait so bad."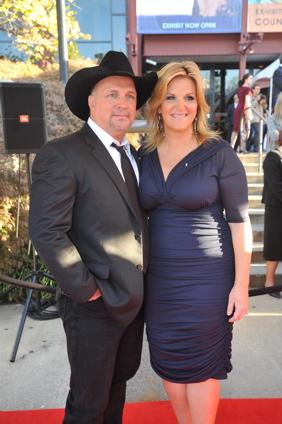 He ended by speaking of a Bible passage that says a man makes it to heaven through his wife. "I've got to say, Miss Yearwood, you're my only shot," he quipped.
The performances honoring Smith opened with Fort Worth's Quebe Sisters Band, a personal favorite of the singer. The sisters harmonized on a Smith's 1964 debut hit, "Once a Day." Another family band, the Whites, performed Smith's "If It Ain't Love (Let's Leave It Alone)," which the trio recorded and had a hit with in 1985.
Next, Lee Ann Womack sang her idol's "You've Got Me (Right Where You Want Me)," a song Smith co-wrote. "All the girl singers want to sing like Connie," Womack said. "Connie has it all. She has the great songs and the voice and the beauty. And I think what impressed me the most is she delivered all those things with such class."
Smith accepted her honor from Merle Haggard, who came from California to personally induct her. "There's a real close kinship between Connie and I," Haggard said. "We've recorded each other's songs over the years. We've come to know each other . . . I've admired her sincerity, and her spirit, and her commitment to traditional country music. If you're talking country singing, there ain't no better."
In her acceptance speech, Smith said, "I believe with all my heart this was God's destiny for me, to be a girl country singer. I will continue to be until he tells me otherwise." Smith then performed "When I Need Jesus, He's There," a gospel song she recorded but has rarely performed.
Robbins, who is blind, became one of the busiest studio musicians of his generation, and can be heard playing on recording by artists ranging from Patsy Cline to Shania Twain, as well as classic rock recordings by Bob Dylan, Leon Russell, Neil Young and many more. 
In tribute to Robbins, Ronnie Dunn sang the 1959 George Jones classic, "White Lightning," the first country hit to feature Robbins on piano, and brought a couple of jars of moonshine (aka  white lightning) out on stage with him to bolster his performance.
"I'm going to try and set a record by drinking this much moonshine in a three-minute song," Dunn joked.
Other performers honoring Robbins included Crystal Gayle singing her signature hit, "Don't It Make My Brown Eyes Blue." Said Gayle to Robbins, "Your magical touch to this song has been with me forever. You have meant so much to my career—my whole career."
Next, Gene Watson sang his standard "Fourteen Carat Mind," and spoke about the importance of Robbins in his musical career. "Every No. 3, every No. 2, every No. 1 song I ever had, Pig Robbins played the piano on it," Watson said.
After his acceptance speech, Robbins was joined on stage by Ronnie Milsap, and the two men performed the Charlie Rich hit "Behind Closed Doors," which includes a classic piano introduction created by Robbins.
live local music on
Enter your ZIP code to see concerts happening in your area.
Data provided by Zvents
follow msn music