FEATURED POST
Four are honored for the first time; three are repeat winners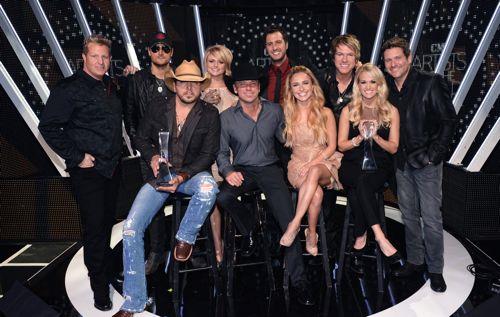 Jason Aldean, Luke Bryan, Kenny Chesney, Eric Church, Toby Keith, Miranda Lambert and Carrie Underwood have been named CMT's 2012 Artists of the Year, it was announced last night during the premiere of the 90-minute TV special hosted by Rascal Flatts and "Nashville" actress Hayden Panettiere. These seven country music superstars were honored by an eclectic group of stars from the worlds of music, sports and Hollywood during a show that was also packed with performances. It was the third consecutive CMT honor for Aldean, and the second win each for Chesney and Underwood. The other four stars were being honored for the first time. (All of the winners and the show's hosts are pictured above.)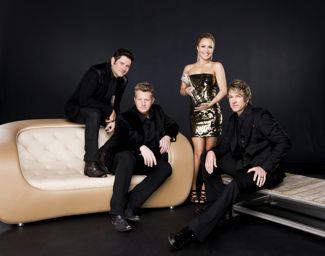 The evening began with a taped piece showing Panettiere, joined by her "Nashville" co-stars Connie Britton and Charles Esten, being whisked away mid-scene from the ABC show's set by Rascal Flatts to host the CMT show. Rascal Flatts (pictured right with Panettiere) then kicked off the evening's performances with album cut "Hot in Here," from their album "Changed."
The first honoree of the evening was Keith who was presented with his trophy by baseball star Roger Clemens and received congratulations from country comedian Rodney Carrington and "Late Late Show" host Craig Ferguson. Keith then performed his hit "Beers Ago."
"It's very important that after 19 years you get to still stand around and get some of these things," said Keith in his acceptance speech. "So thanks Mom, thanks God, thanks to the Internet, [and] thanks CMT for giving us freedom to express ourselves musically after all these years."
Honoree Lambert was up next, being presented her trophy by Sheryl Crow with congratulations from tour mate Chris Young and her idol, Merle Haggard. Lambert performed her hit "Over You."
"The coolest thing about country music is that we are a family and that we're all here to celebrate each other tonight," said Lambert. "We're the only genre that can say that, and that is so badass . . . I just think it's awesome and I'm so proud to be in country music . . . and I'm really proud to be here tonight."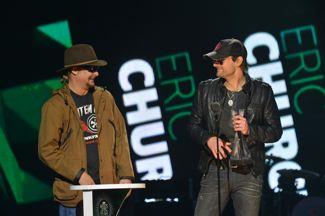 Church received his trophy from Kid Rock (pictured together on the left), along with a video greeting from Metallica's James Hetfield, before performing "Homeboy" with a string section.
"Two years ago there were 16 of us on one bus. We didn't even have CMT on the satellite," Church said. "To get from there to here . . . we always tried to make it about the music. I have a lot of passion for the music and I have a team that believes in that passion . . . I think country music's in a great spot and I'm excited to see where we go from here."
Chesney received his award from Sammy Hagar (pictured together below) and got a special video message from Academy Award winning actor Morgan Freeman. Eli Young Band and newcomer Kacey Musgraves, who will both tour with Chesney in 2013, performed his hit "Come Over," introduced by Hagar as "the best booty call song ever." Chesney was the only one of the evening's honorees who chose not to perform.
First addressing Hagar, Chesney joked, "It takes an act of god to get Sammy Hagar out of his beach house in Mexico, so thank you very much for being here, my friend." Then addressing his followers, Chesney said, "To all the fans out there who have been a part of building such a crazy, wonderful world for us out there on the road . . . God bless you guys. Thank you very much."
Underwood, who performed her current single "Two Black Cadillacs," received congratulations from Hunter Hayes and "Today" show co-host Hoda Kotb and her trophy from her husband, Nashville Predators' Mike Fisher.
After the introduction by Fisher, Underwood quipped, "I'm surprised he didn't call me Carrie Fisher. That's a daily battle." She then added, "Thank you to God for just allowing us to do what we do. God bless everybody here. Thank you so much for country music."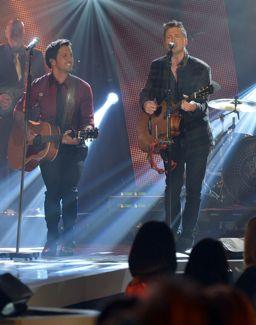 Kenny Rogers presented honoree Bryan with his trophy while Lady Antebellum and Thompson Square offered congratulations on the honor. Bryan performed a mash-up of his hit "Drunk on You" and OneRepublic's "Feel Again" with that band's front man, Ryan Tedder (pictured left with Bryan), as well as a snippet of OneRepublic's "Apologize."
"This is a huge deal for me," said Bryan. "Two years ago I was a part of this with Lady Antebellum. It was a special night for them, and I told myself if I could be up here five or six years from now it'll be a dream come true for me. I never would have imagined two years from then I would be up here getting one of these. Thank you fans. I love ya'll."
Aldean received his CMT Artists of the Year honor from Atlanta Braves' star Chipper Jones and was honored by rapper Ludacris and "Duck Dynasty" star Willie Robertson. Aldean closed the evening with a performance of his hit "Take a Little Ride."
"I feel honored to have won this once, but to have gotten it now three years in a row, I have to say a huge thank you to the fans who have given all of us in this room a career," said Aldean.
The 2012 CMT Artists of the Year special is now available to view on CMT.com and will re-air on the network Dec. 11 at 12:00 a.m. All times are ET/PT.
live local music on
Enter your ZIP code to see concerts happening in your area.
Data provided by Zvents
follow msn music