The Band Perry reveals title, cover art for their second album
Set also marked by a change in producers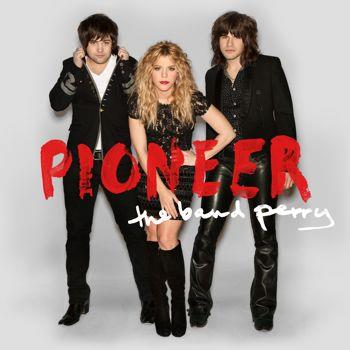 The Band Perry revealed the title and cover art this morning for their forthcoming sophomore album, "Pioneer," set to hit retailers April 2.
Country music veteran Dann Huff produced the set. The band had also been working with California-based producer Rick Rubin on some tracks earlier in the life of the project, but it seems those highly anticipated collaborations didn't made the final project.
"When we set out to record 'Pioneer,' the three of us drove across the country from Greeneville [Tenn.] to Malibu to work with one of our musical superheroes, Rick Rubin," said the band's Reid Perry in a press release. "Our time in the studio with Rick was so incredible because during our early sessions he challenged us to set higher goals as songwriters."
"With that experience came the realization that we needed to take the music back home to Tennessee and have Dann Huff bring the songs to life with his production," adds brother Neil Perry. "Sometimes where one starts off is not where one ends up, which is a big theme for us on 'Pioneer.'"
In an interview with Billboard last summer, with the album about half way completed with Rubin, the band's Kimberly Perry called him "a masterful mentor."
live local music on
Enter your ZIP code to see concerts happening in your area.
Data provided by Zvents
follow msn music