Josh Turner's Fifth Album To Hit Stores June 12
Singer Penned Many Of Its Songs In A Newly-Built Cabin On His Property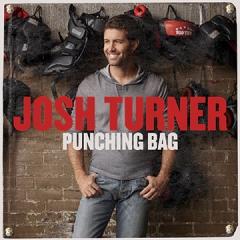 Josh Turner has set a June 12 release date for his fifth album, "Punching Bag." The album's first single, "Time Is Love," is in the top 20 and climbing on the national radio airplay charts.
The singer co-wrote eight of the 11 tracks on "Punching Bag," including the title cut. Many were penned in a cabin he recently built on his property, behind his home, to serve as a songwriter's den and personal getaway. The cabin is inspired by his home state of South Carolina and is stocked with some of his most prized possessions.
"I spent two years building my writer's cottage," he says in a press statement. "Once it was finished I was immediately in there writing songs. In total, I've written 27 songs in there and eight of those ended up on the record. My hero and friend, John Anderson, was sitting across the table from me one day when we were writing and said, 'What will really be a great day is when the songs you write here end up paying for this place!'"
Turner is best known for the four No. 1 hits he's notched since 2006: "Your Man," "Would You Go With Me," "Why Don't We Just Dance," and "All Over Me."
In support of the forthcoming album release, Turner is currently headlining tour dates sponsored by his 2012 tour sponsor, Cracker Barrel Old Country Store.
live local music on
Enter your ZIP code to see concerts happening in your area.
Data provided by Zvents
follow msn music