Keith Urban Surprised With Grand Ole Opry Invitation
Vince Gill And Other Opry Members Catch Urban Off Guard During Benefit Concert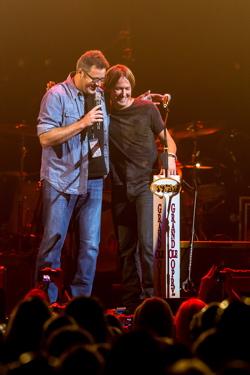 Thanks to some crafty planning, a concert organized by Keith Urban as a benefit for the Country Music Hall of Fame and Museum turned into the perfect setting for a surprise invitation for Urban to join the legendary cast of the Grand Ole Opry.
The invitation happened on stage tonight at Nashville's Bridgestone Arena during the multi-act "All For The Hall" benefit concert. Fellow artist and Hall of Fame board member Vince Gill, pictured with Urban, did the honors, but first invited fellow Opry members (and "All For The Hall" performers) Rascal Flatts, Diamond Rio and the Oak Ridge Boys back on stage to share in the surprise. They filed in under the pretense of presenting a gift to Urban, but when he opened the large black duffel bag, it contained the Opry's signature microphone stand.
Gill said, "We would like to invite Keith Urban to be the next member of the Grand Ole Opry!" Urban covered his face in surprise and replied, "I don't know what to say—but first, YES! Thank you very much to everybody at the Grand Ole Opry who made this possible. I'm shocked. How beautiful for this to happen tonight of all nights.
"I will always remember the first time I played the Opry," Urban continued. "Seeing this stand, and standing in the circle was an extraordinarily surreal moment. So this right here is just a whole other stratosphere! Thank you from the bottom of my heart."
When he is formally inducted on the Opry stage April 21, Urban will become the first artist from outside North America to ever become an Opry member. Urban was born in New Zealand and raised in Australia.
His Opry induction will be televised live on GAC April 21 at 8 p.m. (CT).
live local music on
Enter your ZIP code to see concerts happening in your area.
Data provided by Zvents
follow msn music