Taylor Swift Tops Forbes' List Of Highest-Paid Celebs Under 30
Magazine Estimates Her Yearly Earnings At $57 Million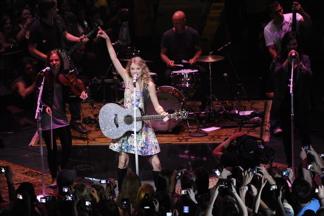 Taylor Swift tops Forbes magazine's list of highest-paid celebrities under 30. The magazine estimates that May 2011 and May 2012, Swift earned $57 million, and notes that "each of the 22-year-old singer's three albums have gone platinum at least four times, meaning that in these days of waning music sales, Swift can be counted on to sell at least four million copies of every album. Then there's her concerts, which bring in an average of $1 million per night, and her endorsement work for products like CoverGirl makeup."
Swift's money and fame helped her land in 11th place on Forbes' annual Celebrity 100 list this year, which is based on earnings and metrics the magazine has developed to quantify buzz.
Also landing spots on the list of highest paid celebs under 30 are Justin Bieber, Rihanna, Lady Gaga, Katy Perry, Adele, Kristen Stewart, Lil Wayne, Taylor Lautner, Robert and Pattinson.
live local music on
Enter your ZIP code to see concerts happening in your area.
Data provided by Zvents
follow msn music