Briefs: News From Eric Church, Lady Antebellum, Chris Cagle And More
Plus, Tracy Lawrence, Edens Edge And Joe Nichols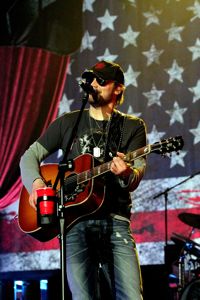 • Eric Church has announced a fall leg of his Blood, Sweat & Beers Tour, which will include 45 new dates, including stops in Los Angeles, Houston and Detroit. Artists Justin Moore and Kip Moore will join Church for this portion of the tour.
Church (right) has tied the tour to a cause that will help those in need. Teaming up with Tickets-For-Charity.​com, he is giving fans the opportunity to donate part of their purchase price to their favorite charity, and his partnering cause, the Juvenile Diabetes Research Foundation.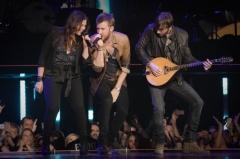 • The final leg of Lady Antebellum's Own The Night 2012 World Tour will include three dates in Australia this September, with stops in Melbourne, Brisbane and Sydney.
"We've been anxiously waiting to announce that we're going back to Australia," said Lady A's Dave Haywood in a press release. "We were over there a little bit over a year ago with Keith Urban, and it was honestly one of the best experiences of our performing career."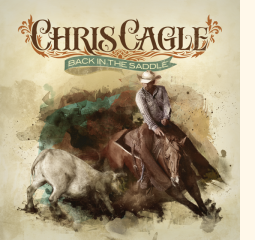 • Chris Cagle will release his fifth studio album, "Back In The Saddle," on June 26. The 11-song set includes his current hit single, "Got My Country On." Cagle wrote five of the tracks, including the next single, "Let There Be Cowgirls."
Says Cagle, "The experience I've had making this record has rekindled the passion I had for music when I recorded my first record. "'Back In The Saddle' is my life. I wouldn't change anything about it; it is a record that I can live or die by and be content. I have given the fans my heart and soul."
• Tracy Lawrence will star in a full-length independent film, "L.A. Dirt,"
set to begin filming on June 9 in Mobile, Ala. The movie is about a young man trying to make it in dirt track racing. Lawrence will play the man's uncle.
• The Cracker Barrel Old Country Store will release an exclusive deluxe edition of Edens Edge's debut album on June 12, the same day the standard edition of the set hits other retailers. The Cracker Barrel edition, which is available in the restaurant chain and at crackerbarrel.com, contains three additional songs, all composed by members of the trio.
In conjunction with the album launch, all Cracker Barrel Old Country Store locations are distributing digital download cards, while supplies last. Each card is redeemable for one free download of Edens Edge's new single, "Too Good to Be True."
• Joe Nichols' wife, Heather, has launched a blog designed to share the information she accumulated during her research into fertility treatments and her experiences throughout her recent pregnancy, and the five miscarriages she suffered before recently giving birth to the couple's daughter, Dylan. The blog is at www.morethananichols​worth.com.
live local music on
Enter your ZIP code to see concerts happening in your area.
Data provided by Zvents
follow msn music