John Fogerty collaborates with five country stars on his new album
Set also includes top name stars from rock and R&B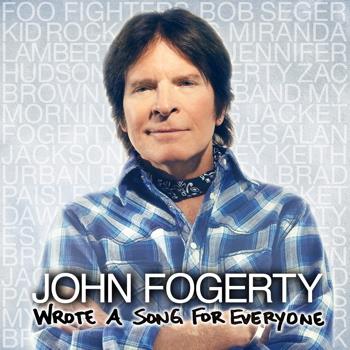 Rock legend John Fogerty has turned to a handful of country stars for an assist with his latest album, "Wrote A Song For Everyone," due out May 28.  The album will feature Fogerty's collaborations with Alan Jackson, Miranda Lambert, Brad Paisley, Keith Urban and the Zac Brown Band.
The former member of Creedence Clearwater Revival has had several brushes with country in the past. Three of his songs charted on Billboard's Hot Country Songs chart in 1973, 1985 and 1997.
The new album is Fogerty's first for Vanguard Records. It also includes collaborations with such rock artists as Foo Fighters, Kid Rock, Bob Seger, and My Morning Jacket, plus R&B star Jennifer Hudson and Fogerty's sons, Shane and Tyler. The songs are a mix of the Rock & Roll Hall of Famer's most iconic songs and more obscure tracks, as well as two new songs, "Mystic Highway" and "Train of Fools."
Fogerty tells American Songwriter magazine, "I encouraged each of these artists to come up with their own vision of my song, rather than just redoing what I'd recorded in the past. I was hoping they'd have some different twist so it would be fresh, so I'd have to work, too. I wanted it to be something new."
Here's the album's track listing:
1. Fortunate Son (with Foo Fighters)
2. Almost Saturday Night (with Keith Urban)
3. Lodi (with Shane Fogerty and Tyler Fogerty)
4. Mystic Highway (John Fogerty solo)
5. Wrote a Song for Everyone (with Miranda Lambert feat. Tom Morello)
6. Bad Moon Rising (with Zac Brown Band)
7. Long As I Can See the Light (with My Morning Jacket)
8. Born on the Bayou (with Kid Rock)
9. Train of Fools (John Fogerty solo)
10. Someday Never Comes (with Dawes)
11. Who'll Stop the Rain (with Bob Seger)
12. Hot Rod Heart (with Brad Paisley)
13. Have You Ever Seen the Rain (with Alan Jackson)
14. Proud Mary (with Jennifer Hudson feat. Allen Toussaint and the Rebirth Brass Band)
live local music on
Enter your ZIP code to see concerts happening in your area.
Data provided by Zvents
follow msn music