CMA Awards Nominations Reward A Diverse Group Of Acts, Some Actually Country
Eric Church Leads The Pack; Kelly Clarkson's Nomination Most Controversial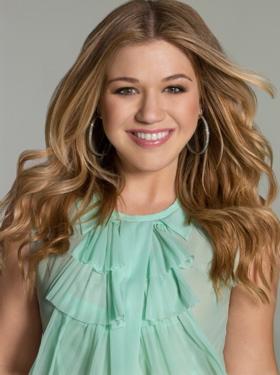 The nominees for this year's Country Music Assn. Awards are out, and they include pop star Kelly Clarkson (pictured) in a major category, plus a nomination for Lionel Richie, two for The Civil Wars, one for Semisonic lead singer Dan Wilson, and one for Snoop Dogg. Yes, THAT Snoop Dogg, the one who recently changed his name to Snoop Lion.
Plenty of country artists were also nominated, most notably Eric Church who landed nods in five categories, including his first ever in the male vocalist of the year category. Church (pictured below) earned his very first CMA Award nomination just last year in the new artist category, and has clearly come a long way in the span of time since then. Luke Bryan is also a first time nominee in the male vocalist category. He earned a second nomination this year in the album of the year category.
Miranda Lambert and Blake Shelton each earned four nominations including one they share in the song of the year category as the writers of Lambert's hit "Over You." Jason Aldean, Dierks Bentley, Kenny Chesney, Little Big Town, and Taylor Swift each received three nods.
While not a stranger to the CMA Awards, Clarkson—who only dabbles in country music from time to time but has close ties to Nashville—was this year's most controversial pick (at least in the country music industry) with her nod in the female vocalist category. She previously shared a CMA win last year for her duet with Aldean on "Don't You Wanna Stay" in the musical event category. Clarkson also had a previous musical event nomination with Reba McEntire for "Because of You" in 2007.
Musical event is the category where we typically see out-of-format artists earning nods for their pairings. That's also the category that gave recognition to Snoop Dogg this year for his collaboration with Willie Nelson, Jamey Johnson and Kris Kristofferson on Nelson's song "Roll Me Up And Smoke Me When I Die."
Among the other interesting tidbits from this year's nominations:
• Alan Jackson's nomination in the musical event category ties him with George Strait for the most career CMA Awards nominations with 81 each.
• If Chesney wins entertainer of the year, he'll take the record for the most wins in the category. Chesney is currently tied with Garth Brooks, winning the trophy four times in 2004, 2006, 2007, and 2008.
• Brad Paisley's nominations this year keep him third on the list of artists with the most career nominations in CMA Awards history. He has been nominated every year since 2000 and has now amassed 58 nominations.
• If Carrie Underwood wins the female vocalist of the year trophy again, it will tie her with Martina McBride (1999, 2002-2004) and McEntire (1984-1987) for most wins in this category. McBride is also nominated in the category again in 2012.
• First time nominees Love and Theft earned two nominations, for vocal duo and new artist. Other first-time nominees include Eli Young Band, Richie, Snoop Lion, Hunter Hayes, and writer/artists Will Hoge and Eric Paslay.
Winners will be revealed during the 46th Annual CMA Awards, set for Nov. 1 on ABC Television Network. Paisley and Underwood will host for the fifth time.
Here are the final nominees:
Entertainer of the Year
Jason Aldean
Kenny Chesney
Brad Paisley
Blake Shelton
Taylor Swift
Single of the Year (Award goes to artist and producer(s))
"Dirt Road Anthem"
Jason Aldean
Produced by Michael Knox
"God Gave Me You"
Blake Shelton
Produced by Scott Hendricks
"Home"
Dierks Bentley
Produced by Brett Beavers and Luke Wooten
"Pontoon"
Little Big Town
Produced by Jay Joyce
"Springsteen"
Eric Church
Produced by Jay Joyce
Album of the Year (Award goes to artist and producer(s))
"Chief"
Eric Church
Produced by Jay Joyce
"Four The Record"
Miranda Lambert
Produced by Frank Liddell, Chuck Ainlay, and Glenn Worf
"Home"
Dierks Bentley
Produced by Brett Beavers, Luke Wooten, and Jon Randall Stewart
"Own The Night"
Lady Antebellum
Produced by Paul Worley and Lady Antebellum
"tailgates & tanlines"
Luke Bryan
Produced by Jeff Stevens and Mark Bright
Song of the Year (Award goes to songwriter(s))
"Even If It Breaks Your Heart"
Will Hoge and Eric Paslay
"God Gave Me You"
Dave Barnes
"Home"
Dan Wilson, Brett Beavers, and Dierks Bentley
"Over You"
Miranda Lambert and Blake Shelton
"Springsteen"
Eric Church, Ryan Tyndell, and Jeff Hyde
Female Vocalist of the Year
Kelly Clarkson
Miranda Lambert
Martina McBride
Taylor Swift
Carrie Underwood
Male Vocalist of the Year
Jason Aldean
Luke Bryan
Eric Church
Blake Shelton
Keith Urban
Vocal Group of the Year
Eli Young Band
Lady Antebellum
Little Big Town
The Band Perry
Zac Brown Band
Vocal Duo of the Year
Big & Rich
Love and Theft
Sugarland
The Civil Wars
Thompson Square
Musical Event of the Year (Award goes to each artist)
"Dixie Highway"
Alan Jackson featuring Zac Brown
"Feel Like A Rock Star"
Kenny Chesney (duet with Tim McGraw)
"Roll Me Up and Smoke Me When I Die"
Willie Nelson with Snoop Dogg, Kris Kristofferson, and Jamey Johnson
"Safe & Sound"
Taylor Swift (featuring The Civil Wars)
"Stuck On You"
Lionel Richie (with Darius Rucker)
Music Video of the Year (Award goes to artist and director)
"Come Over"
Kenny Chesney
Directed by Shaun Silva
"Over You"
Miranda Lambert
Directed by Trey Fanjoy
"Pontoon"
Little Big Town
Directed by Declan Whitebloom
"Red Solo Cup"
Toby Keith
Directed by Michael Salomon
"Springsteen"
Eric Church
Directed by Peter Zavadil
New Artist of the Year
Lee Brice
Brantley Gilbert
Hunter Hayes
Love and Theft
Thompson Square