New To Twitter, Trace Adkins Over Shares
Singer Reveals One Body Part, Brags About Another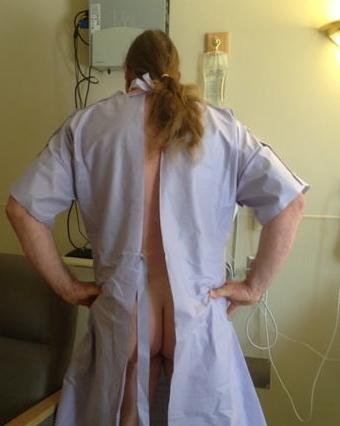 Two country stars recently joined the Twitterverse. Both Trace Adkins and Carrie Underwood have finally begun tweeting to their fans. While Underwood's tweets (@CarrieUnderwood) have been fairly benign thus far, the same can't be said of Adkins (@TraceAdkins).
Adkins first posted a quick video on Monday explaining how he's "surrendered" to Twitter after dropping his old flip phone, and replacing it with an iPhone. He ended the message with "let the games begin," and he wasn't kidding. Since then, he's tweeted nearly 40 times, and is apparently following the Blake Shelton model that there's no such thing as too much information, sharing such thoughts as "Rhonda [his wife] says I'm becoming a dirty old man, but since I was a dirty young man I didn't even notice."
But Adkins surpassed even Shelton's outrageous Twitter antics on Tuesday when he tweeted the photo above of his bare behind peeking out of a hospital gown. That photo has already generated a Twitter account of its own, @TracesButt, with 10 followers and counting.
In subsequent tweets, Adkins explained that he was at Vanderbilt Hospital in Nashville for a procedure in which doctors broke up eight kidney stones. He also felt compelled to share the news that his doctors told him they needed an "unusually long" stent to do the procedure because a certain body part is "freakishly long."
Let the games begin, indeed. 
Are you sure you want to delete this comment?
live local music on
Enter your ZIP code to see concerts happening in your area.
Data provided by Zvents
follow msn music