A Sneak Peak At Martina McBride's New Album
First Single, "Teenage Daughters," Due Out Next Month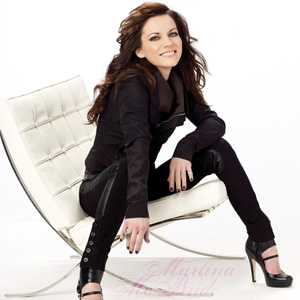 Martina McBride gave some key country radio programmers an early listen to her upcoming album at a "Martinis with Martina" party at her beautiful Nashville home last night. McBride revealed that she opted for a change of venue this time, recording the album in Atlanta instead of in the state of the art Nashville-area studio she and her husband, John McBride, own and operate. She explained that the move out of town—suggested by an executive at her new record label—was meant to help her completely focus on the recording process and not be distracted by her everyday life and parental responsibilities.
She recorded 18 tracks over the course of eight days in Atlanta (some of that in the middle of an ice storm), taking a four-day break in the middle to return home to her three daughters in Nashville.
And speaking of her daughters, the first single from the project, "Teenage Daughters," goes to country radio in mid-April. It's a pop-sounding track with some funny, universally relatable lyrics about parenthood, and it sounds like a smash to One Country.
No release date has been set for the album, which is McBride's first since moving from her longtime record label home of RCA to Universal Republic. At last night's party, she called it the best album she's ever made.
live local music on
Enter your ZIP code to see concerts happening in your area.
Data provided by Zvents
follow msn music