Tate Stevens' first music video to debut during Grammy Awards telecast
Singer recently collaborated with Joe Diffie for a songwriting session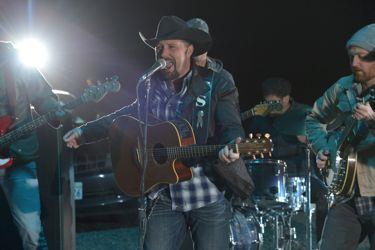 Tate Stevens, the recent winner of season two of FOX's "The X Factor," will debut his debut music video for the song "Holler If You're With Me," during the 55th Annual Grammy Awards, airing Feb. 10 on CBS at 8 p.m. (ET/PT). The new clip will premiere during the broadcast in a paid slot from "The X Factor" sponsor Pepsi. The video placement was part of the grand prize package awarded to Stevens along with a $5 million recording contract with Syco Music/RCA Nashville. The song, "Holler If You're With Me," will be available for download on iTunes beginning February 5.
Tate, a 37-year-old, blue-collar construction worker from Belton, Mo., says of his life since winning the show, "Things are moving very fast since the finale of 'X Factor,' and we're already laying down tracks for my new album that will be out this spring. I truly feel so blessed to have been given this opportunity."
He plans to write many of the songs included on the album, and has been paired up with top-notch Nashville songwriters including Rhett Akins, Ben Hayslip, Shane Minor and David Lee Murphy. Renowned Nashville producer, Blake Chancey, will produce the record. Stevens also recently collaborated in a songwriting session with his longtime idol, country singer/songwriter Joe Diffie.
"The moment I sat down in that room with Joe it hit me—this is my life now, this is my chance to follow in the path of my heroes and make my own unique mark on the genre—and that's exactly what I plan to do," Stevens says.
He calls "Holler If You're With Me" a "feel good anthem song." The video was shot in Simi Valley, Calif.
"Having chased this dream for nearly a decade, I was certainly familiar with the concept of a music video, but I had no idea what to expect," he says of the shoot. "In spite of the 50 mph winds, everyone on the set had a great time. It's a party song and so it was only fitting that we threw a party."
live local music on
Enter your ZIP code to see concerts happening in your area.
Data provided by Zvents
follow msn music