Ronnie Dunn Ruffles Feathers With Facebook Posts
His Record Label Claims Dunn "Killed" His Own Single With His Posts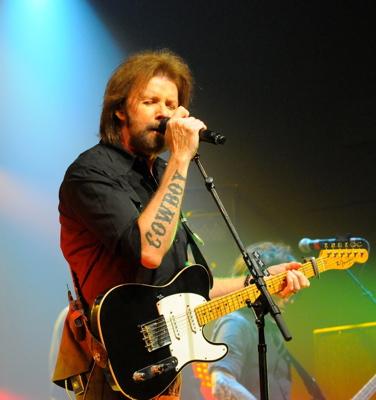 The outspoken Ronnie Dunn has apparently caused a bit of friction with his record company, Sony's Arista Nashville, over some recent posts on his Facebook fan page. But did he really kill his own single, as the label allegedly claims?
As radio industry publication Radio-Info.com reports, the trouble started on May 14, when Dunn posted two comments to his fans asking them to weigh in on what his next single should be.
But the next day, Dunn posted this message: "Got a call from Sony today . . . said that my FB post killed the 'Let The Cowboy Rock' single. Holy sh*t, I didn't know people in the music business read this stuff!"
Later that day, in response to some angry-toned comments from fans, Dunn clarified with another, post: "There are NO 'bad guys' here . . . It's just not working . . . for whatever reason . . . yet. IT WILL. The Sony promo team is giving it their all. They're a good bunch."
By the next week, Dunn's long-struggling single was, in fact, finished, with significant drops in position on both national radio charts.
Dunn quickly took to social media to campaign for his album cut, "Once," to be the next single, and he took his message directly to radio programmers.
"Hey, radio . . . will you start playing 'Once?'" he asked. "If a FB post can kill a single, then maybe it can get one to the top? . . . Just sneak it in on your lunch break. My name is Ronnie Dunn and I approve this message!"
Arista Nashville declined to comment on the situation, but Dunn had plenty more to say to Radio-Info.com.
"Over the years, I've come realize that the fans are just as savvy as most record executives when it comes to what music they like and don't like to hear," he said. "Why wouldn't I want their input? Ultimately, they decide whether a record is going to be a success or not.
"Up until last week, my last single, 'Let The Cowboy Rock,' had been stuck at No. 31 on one radio chart for two months and counting. I did everything that my record label asked me to do to help them promote the song. We were seeing minimal response to our effort.
"I turned to my fans on Facebook, knowing that the label follows my posts, and asked them to pick a song for consideration as a next single. There was an immediate and enormously positive reaction to a song titled 'Once.'
"A representative from the label's promotion department called me early the next morning to inform me that my Facebook post had 'killed the current single's momentum at radio.'
"My reaction is this: If a Facebook post can kill a single at radio, then why can't fans from Facebook (or any other significant social media platform) propel a song to the top of the charts?"
No word yet from Sony on what Dunn's next radio single will be.
live local music on
Enter your ZIP code to see concerts happening in your area.
Data provided by Zvents
follow msn music