Carrie Underwood, Jimmy Fallon reveal their little known history
The two stars claim (in a TV skit) to have once performed "c'rap" together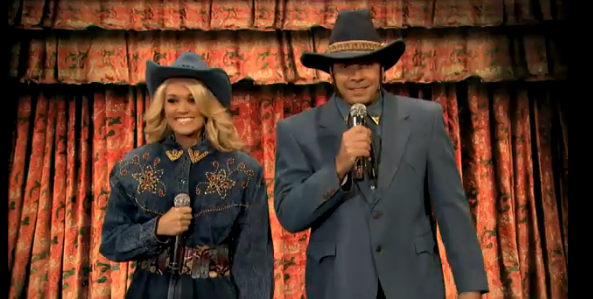 Carrie Underwood had some fun on a recent visit to "Late Night With Jimmy Fallon." In an elaborate skit, Fallon and Underwood "revealed" that they had once been teamed up in a country duo known as "Jim Carrie" in the 1990s. The duo was purportedly known for singing country versions of rap songs, a niche the duo termed "c'rap."
They showed clips of three of their old performances, complete with hokey Western wear getups. If the two stars seem a little out of breath between clips, and trying hard not to laugh, at the end of the skit the reason becomes clear when the "taped" pieces are actually revealed to have been performed live by the two stars, who rush in an out of their costumes and back to Fallon's desk set just in time to discuss each one. Only the studio audience was in on the joke.
Watch the funny results here.

This isn't the first time that Jimmy Fallon and an American Idol winner have crossed paths: While appearing with Kelly Clarkson on Jay Leno's Tonight Show, Fallon told the first A.I. winner in regards to runner up Justin Guarini, "You've just saved America from a bad hair fad." or something to that effect. Clarkson good-naturedly replied, "You're mean."
Are you sure you want to delete this comment?
live local music on
Enter your ZIP code to see concerts happening in your area.
Data provided by Zvents
follow msn music