New Loretta Lynn Tribute Album Honors An Icon
Could Lynn Be A Surprise Performer At Tonight's CMA Awards?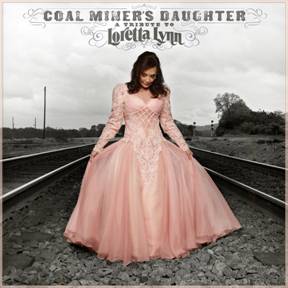 When Miranda Lambert and Sheryl Crow perform Loretta Lynn's "Coal Miner's Daughter" on tonight's 44th annual CMA Awards on ABC, don't be surprised to see them joined on stage by the icon herself in one of her trademark poofy prom dresses. After all, the newly released single version of the song features all three women, and the CMA performance aims to promote a new Lynn tribute album, released yesterday. Thus, a surprise appearance wouldn't be out of the question.
Lynn has been more visible than usual this year as she celebrates her 50th anniversary in the music business. Last month, the Recording Academy staged a tribute to the Country Music Hall of Famer at Nashville's Ryman Auditorium, where Reba McEntire, Martina McBride (both pictured below with Lynn), Garth Brooks, Lee Ann Womack, Gretchen Wilson, and Kid Rock performed her songs. Jack White, who produced Lynn's 2004 "Van Lear Rose" album, said at the event, "I think she's the greatest singer/songwriter of the 21st century, and you can't talk me out of it."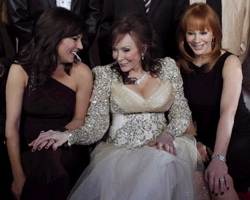 The new album, titled "Coal Miner's Daughter: A Tribute To Loretta Lynn," includes a group of artists hand-selected by Lynn. They include Crow, Steve Earle, Faith Hill, Alan Jackson, Kid Rock, Lambert, McBride, Allison Moorer, Paramore, McEntire, Carrie Underwood, The White Stripes, Lucinda Williams, Wilson, and Womack.
McEntire tells MSN she was delighted to be included. "To hear my name associated in the same sentence with Loretta Lynn, I never in my life thought that would happen," she says. "She was always my hero, always a role model for me, and to be on her tribute album singing 'If You're Not Gone Too Long,' one of my favorite songs that I warm up to before every show, it's a huge thrill . . . I just love her to pieces. There's no one like Loretta Lynn."
"Coal Miner's Daughter: A Tribute To Loretta Lynn" includes seven of the 16 No. 1 hits Lynn scored in her career. Those songs are indicated with an asterisk in the full track listing below.
*Don't Come Home A Drinkin' (with Lovin' on Your Mind) – Gretchen Wilson
I'm a Honky Tonk Girl – Lee Ann Womack
*Rated X – The White Stripes
You're Lookin' at Country – Carrie Underwood
*Louisiana Woman, Mississippi Man – Alan Jackson and Martina McBride
You Ain't Woman Enough (to Take My Man) – Paramore
*Love Is the Foundation – Faith Hill
*After the Fire Is Gone – Steve Earle and Allison Moorer
If You're Not Gone Too Long – Reba McEntire
I Know How – Kid Rock
*Somebody Somewhere (Don't Know What He's Missin' Tonight) – Lucinda Williams
*Coal Miner's Daughter – Loretta Lynn, Sheryl Crow, and Miranda Lambert
Vintage Books reissued Lynn's bestselling 1976 biography, also titled "Coal Miner's Daughter," in paperback in September with a new forward by Lynn. Random House Audio released the audio edition on CD and digital download Nov. 2, with narration by actress Sissy Spacek, who starred in the film adaptation of Lynn's life.
live local music on
Enter your ZIP code to see concerts happening in your area.
Data provided by Zvents
follow msn music