Luke Bryan wins big at American Country Awards
Miranda Lambert also scores multiple wins in fan-voted awards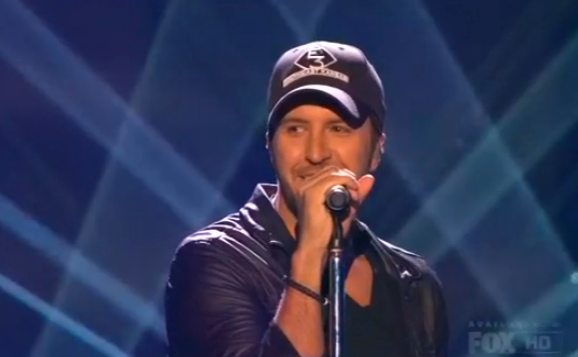 Watching FOX's American Country Awards every December can be a confusing experience. This year, for instance, viewers who were paying attention might have been left wondering how Luke Bryan could have gone into the show with seven nominations and come out with nine wins. They might have wondered why the show ended without announcing winners in four of the 21 fan voted categories. And they may have wondered why they'd voted on a list of 10 candidates for touring artist of the year, yet only five nominees were named on television, even though no announcement had been made of the category having been whittled down at any point.
What took a little time to sort out is that in addition to the 21 fan-voted categories, the ACAs quietly added in five more awards based exclusively on radio airplay as determined by tracking firm Mediabase. Even the show's own publicist was unaware of these additions.
At the end of the night, however, it was Bryan who came out on top with the aforementioned nine wins, including all seven of the fan-voted prizes he'd been up for. Miranda Lambert scored three wins, two in fan-voted categories. Winning two each were Lady Antebellum, Carrie Underwood and Hunter Hayes. The ACAs were broadcast live from the Mandalay Bay Events Center in Las Vegas, and Bryan's performance (pictured above) opened the show.
The biggest surprise of the night was Laura Alaina's win in the new artist of the year category. She not only beat out predicted front runner Hayes, but also Jana Kramer and Kip Moore—all three of whom had much bigger hits this year than Alaina—as well as beating Miranda Lambert's side-project band, Pistol Annies.
Alaina's alternately tearful and giggly acceptance speech started off breathless and emotional, but she recovered quickly and hit every gratitude hot button point necessary, thanking in quick succession: God, her fans, country radio, "American Idol," her management, her record label and her mom.
Little Big Town's Karen Fairchild had the night's quirkiest acceptance speech moment. After winning group music video of the year for "Pontoon," Fairchild thanked "our glam team for bronzing our legs in this video and making them look better than they really are."
Here's the full list of winners:
Artist of the Year
Luke Bryan
Artist of the Year: Male
Luke Bryan
Artist of the Year: Female
Carrie Underwood
Artist of the Year: Group
Lady Antebellum
Artist of the Year: Breakthrough Artist
Jake Owen
Artist of the Year: New Artist
Lauren Alaina
Album of the Year
Luke Bryan, "tailgates & tanlines"
Single of the Year
Luke Bryan, "I Don't Want This Night To End"
Single of the Year: Male
Luke Bryan, "I Don't Want This Night To End"
Single of the Year: Female
Miranda Lambert, "Over You"
Single of the Year: Group
Lady Antebellum, "We Owned The Night"
Single of the Year: New Artist
Hunter Hayes, "Wanted"
Single of the Year: Breakthrough Artist
Brantley Gilbert, "You Don't Know Her Like I Do"
Single of the Year: Vocal Collaboration
Brad Paisley (Duet with Carrie Underwood), "Remind Me"
Touring Artist of the Year
Jason Aldean
Music Video of the Year
Luke Bryan, "I Don't Want This Night To End"
Music Video of the Year: Male
Luke Bryan, "I Don't Want This Night to End"
Music Video of the Year: Female
Miranda Lambert, "Over You"
Music Video of the Year: Group or Collaboration
Little Big Town, "Pontoon"                 
Music Video of the Year: New Artist
Hunter Hayes, "Wanted"
Song of the Year:
Eric Church, "Springsteen" (writers Eric Church, Jeff Hyde and Ryan Tyndell)
Additionally, the following Most Played Radio Track awards, determined by Mediabase, were announced during the telecast:
Most Played Radio Track
Luke Bryan, "I Don't Want This Night to End"
Most Played Radio Track: Male
Luke Bryan, "I Don't Want This Night to End"
Most Played Radio Track: Female
Miranda Lambert, "Over You"
Most Played Radio Track: Group
Zac Brown Band, "Keep Me In Mind"
Most Played Radio Track: New Artist
Kip Moore, "Somethin' 'Bout A Truck"