Lady Antebellum enjoys its "Golden" years with May 7 release
Band's fourth album described as a "road-trip record"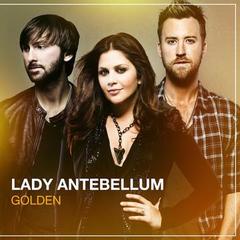 Lady Antebellum fans won't have to wait much longer for the band's fourth studio album. The group announced today that the album, to be titled "Golden," will be in stores May 7.
"This album feels to me like one of those that from start to finish could be a good road-trip record, and that's what we wanted," says the group's Charles Kelley in a prepared statement. "It's one of the reasons why the term 'golden' was kind of cool. I think about road trips and driving down the road with those little streaks of sunshine popping through the trees, especially at sunset. 'Golden' . . . just gives you this warm, easy feeling."
"Writing and recording this record really took us back to when we first met each other," adds the trio's Hillary Scott. "When I first met the boys, we spent a lot of time around the piano at the house they lived in at the time. We didn't really know each other at all, but there was still some magic, and then the harmonies—that's how it all started, that blend of our voices and that blend of our songwriting craft. It's exciting that even on our fourth record, we can still find that."
"The word 'golden' to me conjures up a lot of pictures," says band member Dave Haywood. "In the title track, it depicts driving down the road at sunset but, to me, it also depicts a special time in our career, a 'golden,' special time for us. We definitely want to value this time in our careers because it's such a treasure that we can still sit in a room and write songs together. I personally feel so humbled to still be making records that people are excited to hear."
The new album's lead single, "Downtown," is quickly climbing the national airplay charts, and currently resides in the top 15.
live local music on
Enter your ZIP code to see concerts happening in your area.
Data provided by Zvents
follow msn music