Toby Keith reveals the one surprising business venture that eludes him
Singer hopes to make a line of products for "the everyday joe"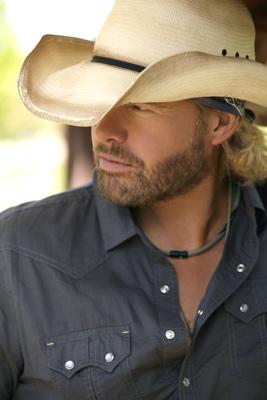 For most artists, recording, touring and promoting their music gives them plenty to do. Not Toby Keith. In addition to helping run the Nashville record label he founded (Show Dog-Universal Music), he also oversees a bar and restaurant chain (Toby Keith's I Love This Bar and Grill), owns an Oklahoma golf course, and has his own line of mezcal (Wild Shot), among other business interests. He also finds time to endorse Ford Trucks as the company's longtime spokesman, and runs his own charity foundation.
Keith tells One Country he and his management team "probably get an offer a day to do something," so they must choose carefully.
And while nearly everything he touches turns to gold, making him consistently one of Forbes magazine's top-earning musicians, Keith reveals that there's one business he hasn't yet been able to get off the ground.
"I tried to do everyday wear jeans and Ts and button-downs for the everyday joe, all made in America," he tells One Country. "We investigated that for about a year and found a factory where we could put 200-300 people back to work." But Keith says the economic factors have so far derailed his plans.
"Problem is, if you're going off the base rate in the U.S. of what you can pay somebody, [at the] end of the day it costs me x amount to make a pair of jeans," he explains. "I take them to Pennys or Sears or somewhere and they put them in the store and mark them up what they have to mark up, and I'm $5 higher than the cheapest jeans made overseas. [Even] if I just do it for free, do it non-profit and just put these people back to work, I'm still too high. So you can't do it.
"I've been trying for three or four years," he adds about his attempts to get the apparel business off the ground. "I've still got a guy working on it on his nickel. He says he's going to figure out a way, but it's been three years and he hasn't busted the seal on it yet."
One area where Keith has no such challenge is record sales. His new album, "Hope On The Rocks," just debuted at No. 6 on the all-genre Billboard 200 chart this week, making it his 13th top 10 album on that list, according to Billboard. First week sales of 48,000 copies also put Keith at No. 3 on Billboard's Top Country Albums chart, kept out of the No. 1 spot only by Taylor Swift's massive-selling "Red" album, which stays at No. 1 for a second week, and Jason Aldean's "Night Train," which stays at No. 2 for a second week. Those albums block Keith from earning his sixth consecutive No. 1 on the Country Albums chart, but he does earn his 20th top 10 entry on that chart.
I have to agree with some of the previous posts. My fiance and myself continually look for quality products made here in our country. It just seems that it is difficult to find. Now perhaps the jeans would be expensive, but if the other items in the line are appealing to the "average joe's" pocketbook, you may be surprised. In a time when people are paying upwards of $60 for jeans that are already ripped and torn, I would have to think that a quality product without the pre-made holes would be successful.

The problem is that Keith is no longer just "an everyday Joe," (if he ever was) and that marketing his own clothing line as such rings false.  If he really cared enough about "made in America," and putting even 200-300 Americans back to work, he'd take the financial hit and do it.  He could absorb the loss and never miss the money.

minimum wage and profit sharing, this will make every employee a salesman. Online store,  this will make the retail markup zero. Advertising, celebrities and wait staff at the bar and grill, zero advertising budget. Made in U.S.A also x percent to charity a double whammy that the same people that buy his albums would be willing to pay extra for, at least I would.  
Are you sure you want to delete this comment?
live local music on
Enter your ZIP code to see concerts happening in your area.
Data provided by Zvents
follow msn music