Kenny Chesney Deprives Himself Of 'The Good Stuff' On His Birthday
Tour Training Takes Precedence Over Cake And Cocktails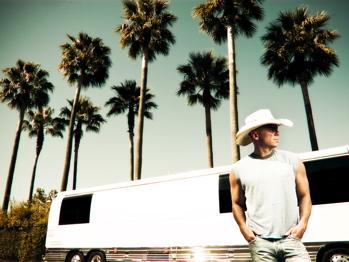 Kenny Chesney had his 44th birthday yesterday, but the super fit star didn't celebrate in the usual ways—or really at all.
Chesney is hard at work preparing for his Brothers of the Sun tour with Tim McGraw, which kicks off in June, and the country superstar tells One Country, "I'm in such training right now and I'm so anal about it to get ready for the tour that I'm not drinking any alcohol and I'm really watching what I eat. At some point, I'm going to have birthday cake and alcohol to celebrate my birthday, but I didn't do it yesterday.
"I've got a lot of stuff coming up and I'm just trying to get back in the zone," he adds, noting that the "stuff" includes shooting a new music video. But he won't deprive himself forever. "Once I get some of that stuff done, towards mid-April, I wanna have a big piece of birthday cake and a couple of drinks to celebrate my birthday."
Look for Chesney on the April 1 Academy of Country Music Awards, where his is nominated nine times. His new album is due out June 19.
Are you sure you want to delete this comment?
live local music on
Enter your ZIP code to see concerts happening in your area.
Data provided by Zvents
follow msn music