Mary Chapin Carpenter Inducted Into Nashville Songwriters Hall Of Fame
Taylor Swift Wins Songwriter/Artist Of The Year Prize For The Fifth Time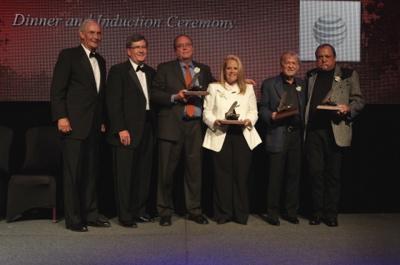 Country artist and songwriter Mary Chapin Carpenter and songwriters Tony Arata, Larry Henley and Kim Williams were inducted into the Nashville Songwriters Hall Fame during the organization's 42nd anniversary Hall of Fame Dinner & Induction Ceremony in Nashville this week. Their selection was first reported here in August.
Garth Brooks was on hand to induct Williams, while his wife, Trisha Yearwood, performed "The Wind Beneath My Wings" in honor of Henley. Brooks, who was inducted into the Hall of Fame himself last year, performed a medley of Williams' songs that included "Papa Loved Mama,"  "New Way To Fly" and "Three Wooden Crosses." He returned to the stage later to honor Arata by performing "The Dance."
In the tribute to Carpenter, pop singer Marc Cohn took the stage to perform "The Hard Way" and was followed by Yearwood, who sang "He Thinks He'll Keep Her."
In addition to the Nashville Songwriters Hall of Fame inductions, sister organization the Nashville Songwriters Association International (NSAI), presented its annual Songwriter Achievement Awards. 
The songwriter/artist of the year prize was presented for the fifth time in six years to Taylor Swift for her self-penned hits "Sparks Fly," "Ours," "Safe And Sound" and "Eyes Open," among others.
The organization's professional songwriter members voted "I Will Always Love You" by Dolly Parton as their song of the year. The song, which first charted in 1974, returned to the airwaves this year following the death of Whitney Houston in February.
The songwriter of the year prize went to Dallas Davidson, co-writer of such hits as "We Owned The Night" and "Just A Kiss" by Lady Antebellum, "I Don't Want This Night To End" and "Country Girl (Shake It For Me)" by Luke Bryan, "If Heaven Wasn't So Far Away" by Justin Moore, "Where I Come From" by Montgomery Gentry, and "This Ole Boy" by Craig Morgan.
Pictured, from left, are Nashville Songwriters Hall of Fame Foundation chairman John Van Mol; Gregg Morton, president of AT&T of Tennessee; and inductees Arata, Carpenter, Henley and Williams.
live local music on
Enter your ZIP code to see concerts happening in your area.
Data provided by Zvents
follow msn music