Carrie Underwood duet is Aerosmith's newest single
It's the third collaboration between Underwood and Steven Tyler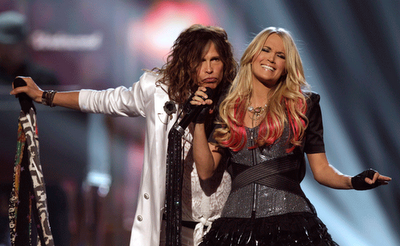 The duet between Carrie Underwood and Steven Tyler from Aerosmith's current album, "Music From Another Dimension," has just been released to radio as the band's next single. The song, "Can't Stop Loving You," is a ballad co-written by Tyler.
Says Underwood in a prepared statement, "It's an honor to have my voice included on an Aerosmith record. I've had a blast working with Steven a number of times in the past, and this was another amazing thing we got to do together."
The two singers previously joined forces on the Academy of Country Music Awards in 2011 (pictured) for a mash up of Underwood's "Undo It" and Aerosmith's "Walk This Way." They teamed again last year for an episode of "CMT Crossroads."
Tyler spoke with Rolling Stone.com about his approach to "Can't Stop Loving You," saying, "I sang it a little country & Western, and all along we thought, 'should we get someone in?' It was last minute. [Carrie] was in town doing something. I called her up and she said, 'I'm leaving tomorrow.' And I said, 'Can you come over tonight?' I called Joe [Perry] up, and the rest is history. She just did it. It really does work."
Perhaps during their next collaboration, Underwood can mention to Tyler that the music industry stopped using the antiquated, cringe-inducing term "country & Western" five decades ago.
Are you sure you want to delete this comment?
live local music on
Enter your ZIP code to see concerts happening in your area.
Data provided by Zvents
follow msn music