Gwyneth Paltrow Admits To Jitters About Her CMA Awards Performance
"I don't know what I was thinking," she confesses.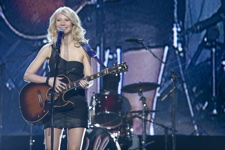 While most stars are looking forward to their appearances on the Nov. 10 CMA Awards, at least one admits to being terrified about her performance. That's understandable, since Gwyneth Paltrow is better know for her acting abilities than her singing.
Paltrow plays a singer (opposite Tim McGraw) in the upcoming film "Country Strong," and agreed to the CMA performance to help promote the movie and its soundtrack. She sings the film's title track, which is currently being promoted as a single to country radio. It's doing quite well, climbing to No. 43 on this weeks' Billboard Hot Country Songs chart after 10 weeks.
In an interview Tuesday on Phoenix radio station KMLE, Paltrow was asked by morning hosts Tim & Willy if it will be nerve-wracking to sing in front of all the top country stars at the CMAs. "Yes, it's going to be horrible," she replied. "I don't know what I was thinking. I think it'll be fun, but I'm scared, of course. If I can just make it through without fainting, that would be good."
Paltrow recently taped a guest appearance on "Glee," and says she got some pointers from the show's star, Matthew Morrison, on how to sing and dance at the same time; something she says is "crazily hard. You have to build up so much stamina." Morrison told her he sings while on the treadmill as practice, so Paltrow says, "I'm going to try that before the CMAs."
She describes herself as "a real music fan," and her country favorites include Miranda Lambert ("I love her voice. I think she's an incredible singer.") and Emmylou Harris ("I cried after I met her I was so happy.").
Paltrow took the preparation for her role in "Country Strong" quite seriously, including three months of guitar lessons before shooting began. She told Tim & Willy her rocker husband Chris Martin's contribution to her training was simply "that he didn't throw me out the window when I was practicing all day long."
"When I took the job I thought, 'Wow, this is going to be so fun to learn how to sing proper country music.' I had no idea how much I would have to study and learn," she says. And now that's she's played a singer on film, she admits she's "got the bug a little bit" to do it for real.
live local music on
Enter your ZIP code to see concerts happening in your area.
Data provided by Zvents
follow msn music