Brad Paisley reveals new album title: "Wheelhouse"
Singer also debuts fake theme song for "Here Comes Honey Boo Boo"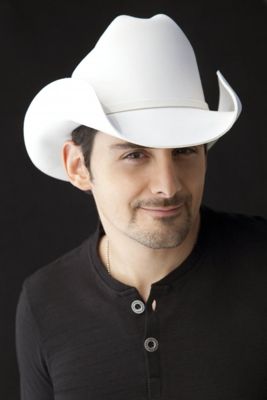 Brad Paisley broke news on "Jimmy Kimmel Live" tonight that he plans to call his upcoming album "Wheelhouse." The new set is due April 9. After joking about calling it "Red," and rejecting host Kimmel's idea of calling it "Thriller," Paisley said on the ABC show he chose "Wheelhouse" because "It's all about leaving your comfort zone to me, this album, and I feel like . . . what is my wheelhouse? It's that baseball expression, sort of what's in your strike zone or wheelhouse where you're comfortable. And we really have tried to go out on a limb with this record and sort of see how far we could stretch certain things."
The word "wheelhouse" is also used in the first line of Paisley's current single, "Southern Comfort Zone," which he performed later in the show accompanied by a gospel choir.
Speaking about how he produced the album himself this time around, Paisley joked that, "This is the first time we've done a record with no one there that knows how to do one." Paisley also said he has about another month of recording left for the spring project.
Also on "Kimmel," Paisley premiered a faux video for an alleged new Western-inspired theme song for the cable TV hit "Here Comes Honey Boo Boo." It includes such lyrics for the TLC show as "In the hills of Georgia, at a modest home/lives a sugared-up beauty queen garden gnome" and "She's on the loose/filled with balls of cheese and go-go juice" as well as "An American hero, down to the core/She eats her meals right off the floor."
live local music on
Enter your ZIP code to see concerts happening in your area.
Data provided by Zvents
follow msn music