Blake Shelton is CMA's entertainer of the year
Singer is a first-time winner in the category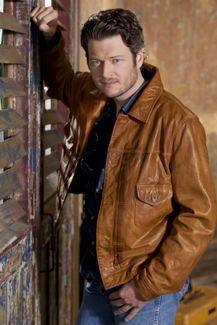 In a win few had predicted, Blake Shelton scored the entertainer of the year CMA Award, his first ever victory in the category, and his third award of the night.
Accepting his award onstage, a shocked Shelton said when he first moved to Nashville, he had two goals. One was to someday have a gold album. The other was to become a member of the Grand Ole Opry. Shelton said being a CMA entertainer of the year was never something he'd even dreamed of.
"I don't know how this happened," Shelton said. " I freaking love it though." He also declared, "I love country music more than anybody in this room."
In addition to giving the country high visibility in his role as a coach on NBC's "The Voice," Shelton has landed seven consecutive No. 1 hits, and 12 in his career.
Backstage in the media room, Shelton spoke about each of his new awards, but said of the song of the year win, "For me as a songwriter, that is as personal as I can get." He joked that the song of the year trophy in his home "will have its own shelf with spotlights, trip wires and land mines on it."
He said the male vocalist win "is the biggest thing in the world to me." As for the entertainer prize, Shelton said, "I didn't see this coming." But, he added, "I've got so much more I want to do."
Speaking about his love for country music, Shelton said, "This is not a joke to me. This is my heart. This is my soul. Country music is my life. It's what I live and breathe."
He later added, "Everything I do now I think 'How will this reflect on Nashville?'"
Shelton also spoke about the Christmas special he's shooting for NBC on Sunday. Revealing that the title will be "Not So Family Christmas," Shelton described the show as "edgy."
Also during the telecast, show co-host Brad Paisley surprised Willie Nelson with the CMA's first-ever lifetime achievement award, which will be renamed the Willie Nelson Lifetime Achievement Award for future winners.
live local music on
Enter your ZIP code to see concerts happening in your area.
Data provided by Zvents
follow msn music