B.J. Thomas returns with new album, recorded in Nashville
Set includes duets with Vince Gill, Lyle Lovett, Richard Marx and more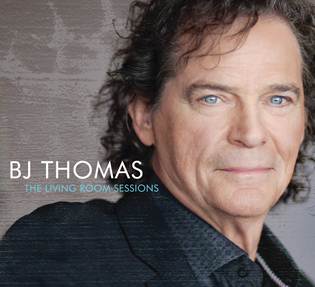 B.J. Thomas, whose nearly 50-year career has spanned pop and gospel, as well as country music, returns with a new album, "The Living Room Session," this spring. The set, which does not yet have a firm release date, is made up of newly-arranged, acoustic re-recordings of 12 of his biggest hits, some re-made as duets with such artists as Vince Gill, Lyle Lovett, Keb' Mo', Isaac Slade of The Fray, Richard Marx, 20-year-old Broadway singer Sara Niemetz, and others.
In the country world, Thomas charted 17 songs between 1975 and 2000 including three, No. 1 hits "(Hey Won't You Play) Another Somebody Done Somebody Wrong Song," "Whatever Happened To Old Fashioned Love" and "New Looks From An Old Lover," plus the top five hit "Two Car Garage" and the top 10 single "The Whole World's In Love When You're Lonely." All three of those country No. 1s are included on the new set, as is Thomas' best-known song, "Raindrops Keep Falling On My Head," which was not a country hit. Also included in the set is Thomas' cover of the Beach Boys' "Don't Worry Baby," covered by Thomas for the first time in 1977.
The new album was produced by country music industry veteran Kyle Lehning and recorded in Nashville. 
Says Thomas in a press release, "In the studio, everything was real simple and organic, and we didn't labor on anything too long to get things right. Mostly, it was a lot of fun. There were some great, surprising moments as well, particularly the performance from Isaac Slade and the dynamic vocals by Keb' Mo'. He is so much more than a blues musician. He originally wanted to do 'Hooked On A Feeling,' but I wanted to save that for Sara Niemietz, so we recorded 'Most of All.' He came in not knowing the song at all, but he sat down, learned it, internalized it and put in the work it took to make it magical."
Niemetz first sang "Hooked on a Feeling" with Thomas when she was four years old, and invited by the singer to join him onstage for very first public performance.
Adds Thomas, "The biggest blessing for me is that I never get tired of the songs I have had the privilege to share with the world. I still feel an emotional connection to them, and as they bring back great memories for me, they affect me the same way they might touch a longtime fan of my music. I never planned any of this out, so to be able to express myself in music and have that as a vehicle for my life for as long as I have is something I am always grateful for. There are so many thrills, satisfactions and great adventures I've had being involved in this for so many years, and I'm excited to have the opportunity with 'The Living Room Sessions' to present some of my favorite songs in a different setting that feels just like home."
The 70-year-old singer plans to tour behind the album this year.
live local music on
Enter your ZIP code to see concerts happening in your area.
Data provided by Zvents
follow msn music