Wynonna Judd's Husband Seriously Injured In Motorcycle Crash
Singer Cancels Shows To Be By Her New Husband's Side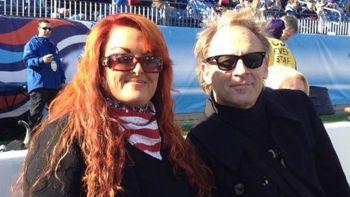 Wynonna Judd has postponed her four scheduled concerts in Canada this week after her new husband, Michael Scott "Cactus" Moser, was seriously injured in a motorcycle accident he caused on Saturday. Moser is also the drummer in Judd's band, The Big Noise. The couple married in June.
Also cancelled was Judd's show in Deadwood, S.D., Saturday night. Moser and Judd had gone for a ride together on separate bikes before that show, when Moser collided with an oncoming vehicle and was transported to a local hospital. He is being treated for serious but non-life threatening injuries. Judd was not involved in the accident.
According to the Associated Press, the couple was riding north on U.S. Highway 16 in the Black Hills when Moser, 55, crossed the center line and hit a car. He was airlifted to Rapid City Regional Hospital. Judd was riding ahead of her husband and was not involved in the crash. The car's driver was not injured.
Moser was reportedly cited by police for crossing the center line and not having a motorcycle license.
Said Judd in a prepared statement, "The outpouring of prayer and support from friends, family and fans has been a blessing to both Cactus and [me]. Cactus is a champion. I love him deeply and I will not leave his side."
Four of the postponed Canadian shows had been sold out. Her next scheduled concert date is Aug. 30; another sold out show in Peshawbestown, Mich.
UPDATE: Judd's Web site reports the sad news that Moser's left leg was severed at the scene of the accident and doctors in Rapid City, S.D. amputated the leg above the knee. He has also undergone surgery to his hand. A statement says, "Judd and Moser appreciate all of the quick medical and police responders as well as the hospital staff and well-wishes from family, friends and fans."