Hank Williams Jr. Plays By 'New Rules' On Upcoming Album
Set Includes Duets With Brad Paisley And Merle Haggard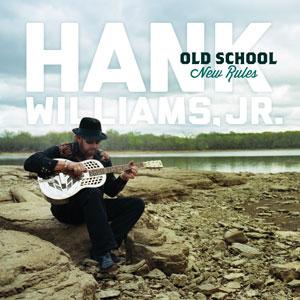 Hank Williams Jr. has enlisted some special guests for his next album, "Old School, New Rules," due out July 10 on his own Bocephus Records imprint. The 12-song set includes a duet with Brad Paisley on the amusingly titled  "I'm Gonna Get Drunk And Play Hank Williams," as well as a new duet with country legend Merle Haggard on his No. 1 hit from 1980, "I Think I'll Just Stay Here and Drink." The first radio single from the set is "That Ain't Good."
"I'm excited about this new album," Williams says in a prepared statement.  "I'm definitely 'old school,' and I am making music with 'new rules.' People know I'm gonna say exactly what I think, and this album is exactly that."
Here's the album's full track listing:
1. Takin' Back The Country
2. I'm Gonna Get Drunk And Play Hank Williams (with Brad Paisley)
3. Three Day Trip
4. Old School
5. We Don't Apologize for America
6. You Win Again
7. Cow Turd Blues
8. Who's Takin' Care of Number One
9. That Ain't Good
10. Keep The Change
11. Stock Market Blues
12. I Think I'll Just Stay Here And Drink (with Merle Haggard)
live local music on
Enter your ZIP code to see concerts happening in your area.
Data provided by Zvents
follow msn music