Carrie Underwood, Scotty McCreery Make Network TV Appearances
McCreery Returns To "American Idol" To Help Celebrate The Winner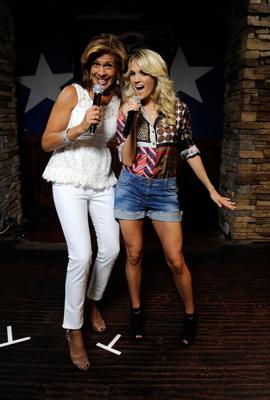 Carrie Underwood will be featured in a TV special marking the 20th anniversary of NBC's "Dateline" airing May 22 at 10 p.m. (ET). Underwood and correspondent Hoda Kotb (pictured together) first met in 2005 after the singer won the fourth season of "American Idol." Seven years later, they met again to talk about her Underwood's successful career for the TV special, which will also highlight some of the most extraordinary stories in the past 20 years.
In other news, Scotty McCreery will return to the stage of "American Idol" this Tuesday and Wednesday for the season 11 finale of the popular FOX show. On Tuesday (May 22), he will sing his cover of "Please Remember Me," the song he recorded as this season's "goodbye song" that was played after a contestant was eliminated and video highlights of the contestant's experiences on Idol were shown. On Wednesday (May 23), he will help celebrate the winner of season 11.
"I am so excited about going back to 'American Idol' and seeing everyone again," he says in a released statement. "I hope to spend some time with the finalists, Phillip Phillips and Jessica Sanchez, and share some of my experiences with them. I can't believe that it's been a year since I was in their shoes."
live local music on
Enter your ZIP code to see concerts happening in your area.
Data provided by Zvents
follow msn music