Diffie, Kershaw, Tippin hit the road for 'Roots & Boots' tour
Three stars share stories and songs together on stage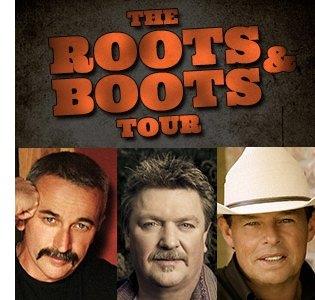 Three of the '90s' biggest country stars, Joe Diffie, Sammy Kershaw and Aaron Tippin are resuming the national tour they're calling "Roots & Boots" for a 2013 leg. On stage together, the trio performs acoustic versions of their hit songs, as well as share stories about those songs and their origins.
Sixteen dates have been announced so far for this year's tour, which kicks off March 8 in Wilkesboro, N.C., but additional dates are expected to be added.
"The 'Roots & Boots' tour is three friends who love country music having a good time, telling jokes about each other and telling jokes on each other," says Kershaw in a press release.
Diffie scored 17 top 10 hits between 1990 and 2002, including five No. 1 hits. Kershaw charted 11 top 10 hits between 1992 and 1998, including the No. 1 "She Don't Know She's Beautiful." Tippin landed nine top 10 hits between 1991 and 2002, including three No. 1 singles.
Meanwhile, Diffie is likely to enjoy a career resurgence thanks to Jason Aldean's new single, "1994," a Diffie homage that references several of the older singer's hits.