Kitty Wells Dies At Age 92
Queen Of Country Music Passes Peacefully At Her Home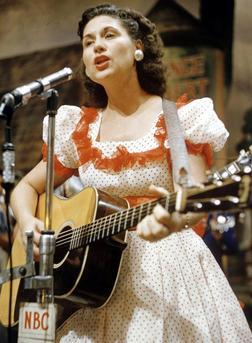 Music legend Kitty Wells, known as the "Queen of Country Music," passed away at her home this morning at the age of 92 following complications from a stroke. She began making an impact on the country charts in 1952 when her single, "It Wasn't God Who Made Honky Tonk Angels," soared to No. 1 and stayed there for six weeks. She was the first female country singer to reach the chart summit, and the first to sell millions of records.
She went on to chart 80 more songs between 1953 and 1979 including two more No. 1s, "One By One" (with Red Foley) in 1954, and "Heartbreak U.S.A." in 1961.
Among her many awards and honors, Wells became a Grand Ole Opry member in 1952, joined the Country Music Hall of Fame in 1976, won the Academy of Country Music's Pioneer Award in 1985 and received a Grammy Lifetime Achievement Award in 1991.
Born Ellen Muriel Deason in 1919, she married fellow country artist Johnny Wright in 1937. The couple had three children, Bobby, Ruby and Carol Sue.
One of the many female stars she influenced, Barbara Mandrell, issued the following statement about Wells' passing: "Kitty Wells was every female country music performer's heroine. She led the way for all of us and I feel very grateful and honored to have known her. She was always the most gracious, kind and lovely person to be around. I so appreciated her being a part of my life and a mentor to me."
Dolly Parton also offered some thoughts on Wells' passing. "Kitty Wells was the first and only queen of country music, no matter what they call the rest of us," she says. "She was a great inspiration to me as well as every other female singer in the country music business.  In addition to being a wonderful asset to country music, she was a wonderful woman. We will always remember her fondly."
Funeral services will be held Friday at 1 p.m. at the Hendersonville Church of Christ in Hendersonville, Tenn. Burial will follow in Spring Hill Cemetery. In lieu of flowers, the family is asking for donations to the Goodpasture Christian School in Madison, Tenn., c/o Kitty Wells/Johnnie Wright Scholarship Fund.
live local music on
Enter your ZIP code to see concerts happening in your area.
Data provided by Zvents
follow msn music