John Rich Says His Role On CW's 'The Next' Mirrors His Real Life
Country Star Is Seeking The Next Gretchen Wilson, Or Cowboy Troy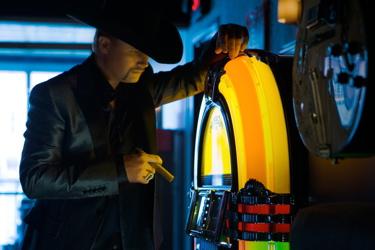 After winning NBC's "The Celebrity Apprentice" in 2011, John Rich says he was flooded with TV offers ranging from game shows to reality shows. He passed on all of them until a new CW prime time music competition series called "The Next: Fame Is At Your Doorstep," caught his attention. Feeling like the show's premise matched the mentoring he enjoys doing, Rich signed on as one of the show's four coaches, joining Gloria Estefan, Nelly, and Joe Jonas.
On the show, which premiered on Aug. 16, Rich's job is to travel across the country searching for artists on the verge of stardom, living with each of the aspiring talents for three days and preparing them for a high-profile performance. The final contestants will compete head-to-head in a singing competition in Los Angeles where viewers can vote for their favorite. The winner will be awarded a recording contract with Atlantic Records.
"What I really liked about it was it kind of mirrored what I do in real life, as far as working with other artists," Rich tells One Country about the show, citing such acts as Gretchen Wilson, James Otto and Cowboy Troy as artists he's successfully mentored in the past.
On "The Next," Rich says he's looking for someone like Wilson, who was a bartender with a local following before landing a Nashville record deal, or Cowboy Troy, who was working at a Foot Locker in Dallas before he was discovered. He says his role on the show is to "step in and [be] able to connect the wires, connect the dots for them . . . on the route ahead, and then watch them go be successful.
"'The Next' is all about that, where you find somebody and they've spent years building their fan base [locally] . . . and they're pretty much bucking their head on the ceiling in their hometown," he says. "This show allows you to go in and spend 72 hours with them. You go to work with them, you go to their house, you meet their parents, their friends, you listen to them sing. You have very deep conversations about where they've been, where they are and where they want to go, and then you give them your best advice and they step on stage and get their shot at it. You find out if they're going to stay a local act or if they have a shot at being a national act.
"I love that angle of it because it's so personal, and it digs down to layers of artistry that I don't think a lot of the other shows do," Rich continues. "It really digs down into the real stuff, like how an artist really becomes an artist. That really got my attention as a concept for a show, so I stepped in on it and am having an absolute blast."
Even outside of the show, Rich says, "If I see somebody that I believe is great, and they're struggling and doing everything right, they just need that last push, that last octane in the gas tank, if I feel like I can get that to them, and be a part of their success, I want to do it. It's something I get a lot of enjoyment from.
"You get to look back at that and go 'Dang, that was fun. That was big. That counted.'"
live local music on
Enter your ZIP code to see concerts happening in your area.
Data provided by Zvents
follow msn music