Kenny Chesney explores "Life On A Rock" with new release
Upcoming album includes a duet with Willie Nelson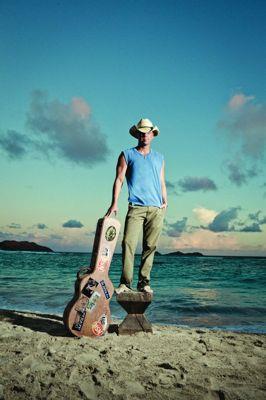 As Kenny Chesney continues to dole out details of his upcoming album, we now have a title to go with the previously known April 30 release date. Chesney has named the new set "Life On A Rock," and its first single, "Pirate Flag," has been released to country radio. Chesney has also revealed that the new set will include a duet with Willie Nelson.
Chesney co-produced the 10-song album with his longtime collaborator, Buddy Cannon, and recorded and mixed it in a variety of locales, including Los Angeles; Hawaii; Jamaica; Key West, Fla.; London and Nashville.
"It all depends on what kind of rock you're looking at," Chesney says of the title in a prepared release. "Just living here on this planet, we're all living life on a rock. But for me, and for this record, it's about the way life is when you live on an island. Everywhere you go, there's everyone you know. You know everything about them, and they know everything about you, and . . . that's just a whole other way to be.
"Coming from Luttrell, Tennessee, I can tell you, 'life on a rock' isn't all that different from life in a real small town," he continues. "It's slower, it's easier, it's more invested and it's also more about really enjoying the moments as they are, when they are.
"At the end of the day, what defines life for most people, certainly for me, are the people you share it with," Chesney adds. "When you live in close proximity, you share the highs and lows of everyday life and become close in ways you can't even explain. Years go by. People move on, but that time, those friends, remain with you no matter where you go. That's where the treasures of being alive are found.
"When I first went to the islands, I met a lot of people who were making a life beyond anything any of them knew. They were boatmen, bartenders, waitresses, real estate folks. They were all loving life, living a dream and coloring outside the lines with this real sense of freedom. They took a country singer from East Tennessee into their tribe at a time when having friends outside everything I knew was important. Time passes, life moves on, but those friends lasted, and this album in a lot of ways is about the power of that kind of friendship to endure."
Chesney will kick off his 46-show No Shoes Nation Tour March 16 in Tampa, Fla., and will play a mix of football stadiums, arenas and amphitheaters through the summer.
live local music on
Enter your ZIP code to see concerts happening in your area.
Data provided by Zvents
follow msn music