Brantley Gilbert spends Veteran's Day visiting ailing service members
Singer teams with Musicians On Call for visit to Nashville's VA Hospital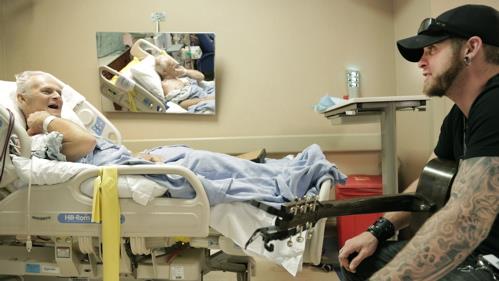 Brantley Gilbert spent last week's Veterans Day visiting and performing for veterans at Nashville's VA Hospital on behalf of the charity Musicians On Call. Gilbert took a break from his current Hell On Wheels Tour to make the visits with some of the country's current and former service men and women.
In a release serviced to the media a week after his visit Gilbert said, "I have never experienced anything quite like playing for these veterans. These men and women have sacrificed their lives for our freedom, my freedom to be able to play my music. I have so much respect for them. It was an honor to be able to spend time with them and hopefully brighten their day a little. I know it has certainly changed my life."
Musicians On Call organizes musicians like Gilbert to bring music to the bedsides of patients nationwide, not exclusively veterans.
Gilbert is best known for his No. 1 hits "Country Must Be Country Wide" and "You Don't Know Her Like I Do." As a songwriter, he has also penned two additional No. 1 songs, "My Kinda Party," and "Dirt Road Anthem," both hits for Jason Aldean.

What a great thing you all are doing for the Vets.  I know they've enjoyed the visits with you and your music.  You're so right when you said "it has certainly changed my life".  It changes mine every time I go to the VA Medical Center here.  I've been a patient for going on 12 years and the other Vets I meet change my life each and every time.  I'm proud to be a Vet and to have been able to serve my country like I did.  I'm in great shape compared to some of my fellow Vets.  I thank them for their Service for my Freedom.  We all have things in common, don't we?
Are you sure you want to delete this comment?
live local music on
Enter your ZIP code to see concerts happening in your area.
Data provided by Zvents
follow msn music