Briefs: News From Little Big Town, Martina McBride, And Keith Urban
Plus, Country Stars Help CMT Promote College Education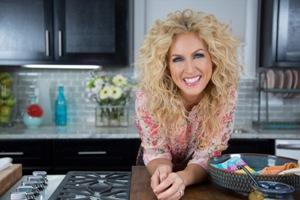 • Little Big Town's Kimberly Schlapman (pictured) is hosting a new cooking series for the Great American Country (GAC) network. "Kimberly's Simply Southern" debuts Sept. 22 at 1 p.m. (ET). The 13-episode series is produced by Al Roker Entertainment.
"I'm not a professional chef but when I was a kid, I would stand at the counter and pretend I was a cooking show host," says Schlapman in a press release. "I never, ever thought it would be a reality."
Each episode shows Schlapman in a different city discovering regional foods. While in Maine, she learns about catching lobster from a fifth generation lobsterman. In Chicago, show discovers the secret to the perfect piecrust at the Hoosier Mama Pie Company. At home in her Nashville kitchen, Schlapman combines her newly gained knowledge with traditional family recipes to create authentic Southern meals. Her recipes are available here.
Among the fellow stars who will make appearances on the show are band-mate Karen Fairchild, plus singers Lauren Alaina, Holly Williams, and Laura Bell Bundy and Schlapman's young daughter, Daisy Pearl.
• Martina McBride took to Twitter this week to complain that her former record label, RCA, is releasing a compilation of her music, apparently without her knowledge. She wrote, "Wow! Kinda sucks that I had 2 find out on twitter that RCA is releasing a CD of 40 of my songs. #hopeIatleastgetafre​ecopy" In a follow-up Tweet, McBride said, "Having said that, I'm not mad about it. Just would have been cool to get a phone call. #iwonderwhatthecover​lookslike?" McBride switched labels from RCA to Republic Nashville in 2010 after nearly two decades on RCA.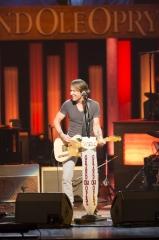 • Keith Urban loaned his voice to a new series of radio commercials for the Grand Ole Opry, which begin airing this week. In the campaign, Urban reflects on having become an Opry member earlier this year, inviting radio audiences to visit Nashville and to connect to the Opry via its mobile app. The spots can be heard here.
"I'll never forget that night," Urban says in the ads, recalling his Opry induction. "Standing on the Grand Ole Opry stage and becoming an official Opry member, it was beyond my wildest dreams. I can feel the history and the excitement about country's future every time I step on the Opry stage."
• Carrie Underwood, Dierks Bentley, Lionel Richie and Luke Bryan are among the artists helping to promote CMT's new educational campaign, CMT Empowering Education, which encourages viewers to pursue post-secondary education. The stars are sharing their own education stories on a new Web site, CMTEMPOWERINGEDUCATI​ON.com, which provides information on schools, career paths, motivation and financial resources. At a CMT-hosted event this week in Washington, D.C., to launch the initiative, new artist Dustin Lynch ("Cowboys and Angels") performed and spoke about his own college experience earning degrees in chemistry and biology at a Nashville University.
live local music on
Enter your ZIP code to see concerts happening in your area.
Data provided by Zvents
follow msn music