Milestones: Eli Young Band's Jon Jones welcomes a son
Also, former "The Voice" contestant Gwen Sebastian gets engaged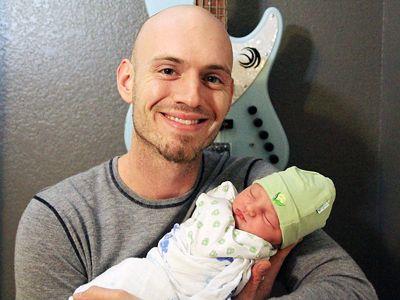 Eli Young Band bassist Jon Jones and his wife, Sarah, welcomed their first child on Dec. 31, People.com reports. Their son, Hudson Lennon Jones, arrived in the early afternoon just before New Year's Eve, about a week later than expected.
"We are ecstatic about this beautiful baby boy that came into our world," the couple told People. "Words cannot describe our excitement and joy.
"Sarah and I feel very fortunate that we were able to stick to our birth plan and have Hudson naturally," added Jones. "The birth was extremely smooth. We left our house at 10 a.m. for the birthing center when contractions were four minutes apart and he was born just a few short hours later."
Mother and son headed home later that afternoon, and Jones made the rare decision to skip a band performance scheduled that evening in Oklahoma.
"The rest of the band went on stage without me for the second time in our careers," Jones said. "They are truly great friends for letting Sarah and I share this wonderful experience together. We were home within four hours of the birth to celebrate New Year's Eve as a family — mostly holding Hudson in amazement."
Since the birth, Jones told People, "We are all still settling in to our new lives and are learning something new every minute. I could not be more proud of my wife and could not be a happier father."
In other news, singer Gwen Sebastian got engaged to her British beau, Louis Newman, just before Christmas. On Dec 23, she tweeted a photo of herself wearing her new engagement ring, along with the message "I'm officially off the market. I love you Louis."
Sebastian was a contestant on season two of "The Voice" who went on to tour with her coach, Blake Shelton. Newman is co-founder of Nashville-based label Flying Island Entertainment and also served as director of A&R for Canadian label Open Road Records. Newman is also Sebastian's producer and the drummer in her road band.
live local music on
Enter your ZIP code to see concerts happening in your area.
Data provided by Zvents
follow msn music