George Strait honored with tributes by fellow country superstars
Tim McGraw among those honoring Strait for his contributions to country music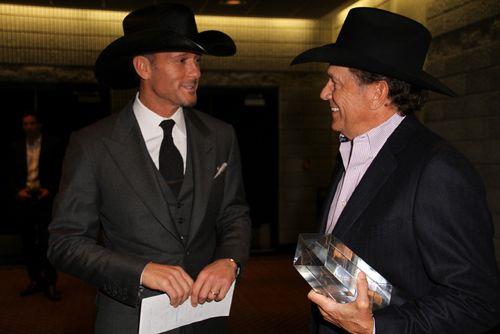 George Strait is a man of few words. Tuesday night at the Nashville Convention Center, he gave an acceptance speech that lasted just a couple of minutes when he was honored with the Career Achievement Award from the industry organization Country Radio Broadcasters. The award came during the group's annual Country Radio Hall of Fame ceremony.
After a lengthy standing ovation from the audience, Strait gave just a few remarks, noting the award was "so special because it's coming from country radio." He also called the country music business "the best business in the world."
Before Strait took the stage, a video montage rolled of fellow country stars paying tribute to him with short messages. Among the artists participating were Taylor Swift, Lee Ann Womack, Alan Jackson and Ronnie Dunn.
In her taped piece, his current tour opener Martina McBride told Strait, "We all look up to you. Everybody wants to be George Strait when they grow up." Dierks Bentley called Strait, "one of the greatest acts ever in country music," and Tim McGraw (pictured above with Strait at the ceremony) spoke about the Texas-based star's contributions to country music.
Blake Shelton talked about his days on tour with Strait, and how he's sit on the side of the stage every night near Strait's wife, Norma, and "watch him perform hit after hit. It's one thing to meet one of your heroes," Shelton said, "but it's a completely different thing to tour with one of them."
Reba McEntire also spoke of touring with Strait, recalling the parties they'd throw backstage, and how comical wigs would often be brought out, some of which Strait wore for fun. "George, you can sport a wig," she joked.
Jamey Johnson also shared a humorous story of attending a Strait concert in Birmingham, Ala., before Johnson himself was a star, and hopping a fence to try and meet Strait. Said Johnson, "Birmingham police later explained to me why that wasn't a good idea."
Later in the evening, McGraw took the stage for a heartfelt induction of country television and radio legends Lorianne Crook and Charlie Chase (known professionally as Crook & Chase) in to the Hall of Fame. Said McGraw of the duo, "They have a way of making you fall in love with new artists."
live local music on
Enter your ZIP code to see concerts happening in your area.
Data provided by Zvents
follow msn music