Trace Adkins Returns To NBC's 'The Celebrity Apprentice'
New Season Begins Airing In March; John Rich On Board As Advisor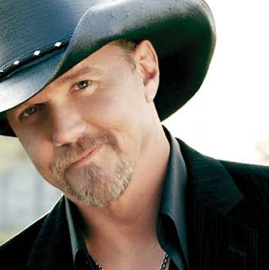 Trace Adkins, is returning to NBC's "The Celebrity Apprentice" for a second season. The singer was the runner-up on Donald Trump's reality show in 2008, losing to Piers Morgan, who is now with CNN. He'll be back in 2013 for a season that will feature an all-star cast of former contestants.
"All-Star Celebrity Apprentice" began taping Oct. 15 and starts airing on Sunday nights in March 2013. His 13 fellow contestants, all playing with the goal of raising money and awareness for their charity of choice, will be Stephen Baldwin, Gary Busey, Marilou Henner, La Toya Jackson, Penn Jillette, Lil John, Claudia Jordan, Brett Michaels, Omarosa, Lisa Rinna, Brande Roderick, Dennis Rodman and Dee Snider. The winner will have the honor of delivering a $250,000 check to his or her designated charity.
This time around, Adkins will compete on behalf of the American Red Cross, the organization that helped his family when they lost their home in a fire last year. Adkins is a recent addition to the Red Cross Celebrity Cabinet. He was also recently named as the organization's spokesperson for the 2012 Holiday Giving Campaign. During his first run on the show, he played on behalf of the Food Allergy and Anaphylaxis Network.
For the first time ever, four previous winners will return as advisors in this seasons' competition, including John Rich winner of the show's fourth season. The other advisors are Piers Morgan, Joan Rivers, and Arsenio Hall.
live local music on
Enter your ZIP code to see concerts happening in your area.
Data provided by Zvents
follow msn music