Darius Rucker Invited To Join Grand Ole Opry
Brad Paisley Issues the Surprise Invitation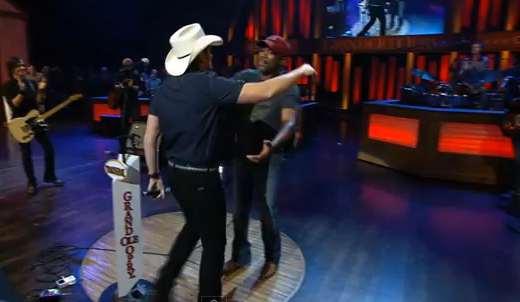 Tuesday night in Nashville, Darius Rucker was surprised onstage at the Grand Ole Opry by Brad Paisley with an invitation to join Opry cast. Opry VP and general manager Pete Fisher led up to the invitation with the ruse of taking audience questions, finally coming to a question from Opry member Paisley, who was planted in the audience. After throwing Rucker off with a benign question about his poker skills, Paisley finally asked, "Would you like to be the newest member of the Grand Ole Opry?"
A shocked and briefly tearful Rucker responded by saying "wow" about a dozen times before finally accepting the invitation, then hugging Paisley who had made his way onto the stage and declaring himself "totally moved."
He later returned to the stage to tell the audience, "You guys got to share one of the most special nights of my life tonight." Addressing his new Opry family, he added, "Thank you for opening your arms and letting me in."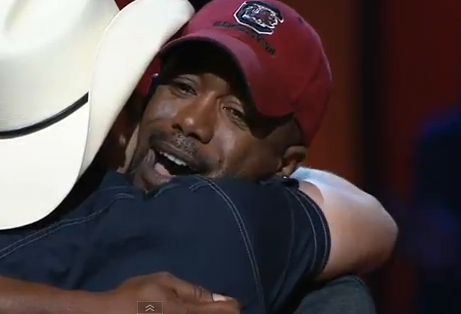 Rucker, who made his first Opry appearance in 2008, will be formally inducted on Oct. 16.
After the show, Rucker tweeted, "Tonight I was honored by my good friend Brad Paisley when he inducted me into the Grand Ole Opry. What an honor. I am in awe." Paisley tweeted, "One of the greatest honors of my life was getting to ask my friend @dariusrucker to join the @Opry tonight. Welcome to your new home pal."
Numerous other country stars also tweeted their congratulations. They included:
Carrie Underwood: @dariusrucker Congratulations on a wonderful night at the @Opry! There is no one more deserving! I am so happy for you! #OpryNight
Rascal Flatts' Joe Don Rooney: @dariusrucker Congrats on the @Opry invite my man! That's so awesome!!!
Rodney Atkins: Congrats to @dariusrucker for being invited to be the newest member of the Grand Ole @Opry!
live local music on
Enter your ZIP code to see concerts happening in your area.
Data provided by Zvents
follow msn music